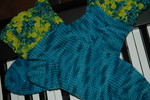 alt="granddaughter socks" title="granddaughter socks" border="2">

granddaughter socks in artyarns supermerino

I finished these socks this past weekend. I'm quite happy with how
they turned out — I hope they fit the recipient!
Quick Project Wrapup:
Pattern:

href="http://www.interweavecrochet.com/projects/Granddaughter_Socks.pdf">Granddaughter
Socks from the free patterns on Interweave Crochet.

Yarn:

Artyarns Supermerino in SM107
and SM106.

Hook/Needles:

Clover Soft Touch D (3.25mm) hook; US3 href="http://knittingonthego.samsbiz.com/page/150ww/Home.html">comfort
zone dpns

Notes:

I adjusted the pattern a bit. Rather than change colors every round
of the granny squares, I used a variegated yarn and adjusted how I
worked the granny square. I worked 3 granny squares, attached them into
a tube, picked up and knit a regular ol' sock foot. I didn't follow the
pattern directions for this at all. I went back and added crochet trim
at the top of the cuff as well (which is in the pattern but I didn't
realize that when I did it). They are cute and hopefully not too big for
the recipient!
-=-
Because this is Socktoberfest, it's only proper that I tell this
story.
In amusing stupidjess news, I should really not attempt to play on German
(sockenwolle!) websites and order things. I inadvertently submitted
an order to Ewa's
Sockenwolle yesterday morning. I mean, I wanted everything in my
cart but I did not mean to put the order through. However, Ewa was
really nice and sent me a very nice email. If I were her, I would
have sent me an email like:
Hi jessica – You crazy American, send me EU 10.000.000.000,90! -E
However, I got a very nice email instead! I wanted
everything I ordered, so I just did it. Hopefully I will learn that it is a
bad idea to play on sites I don't completely understand even with the
help of Babelfish.
[the only problem with that is that I am going to end up with href="http://www.ewas-sockenwolle.de/images/gross/erwachsenes%20rosa.jpg">totally
href="http://www.ewas-sockenwolle.de/images/gross/joschka.jpg">awesome
href="http://www.ewas-sockenwolle.de/images/gross/blau-blau-blau.jpg">sock
yarn... I fear this might have the reverse effect on me and I'll
start ordering random yarns from random sites in languages I don't
understand. Like Japanese. Or Turkish. At least Spanish, Italian, and
Russian I can somewhat understand.]
Apparently Dorothee (of href="http://knitfreak.blogspirit.com/">KnitFreak)
is going to be translating Ewa's site into engligh. Until then, she href="http://knitfreak.blogspirit.com/archive/2005/09/07/bad-news.html">wrote
up a list of vocabulary to help you order. Enjoy!