Wow! I finished the socks for my secret sock pal yesterday. I'm quite happy with them; I hope she likes them, too! I still need to wash and block them, but I will do that next week.
Onto the pictures!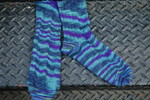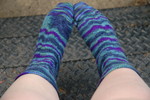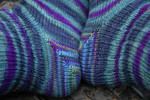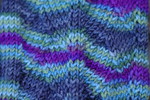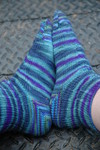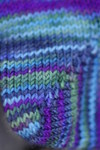 as always, clicky click to enlarge

Quick stats and facts:
Pattern:

Wyvern, a toe-up pattern by Marnie MacLean (in larger size)

Yarn:

Needles:

After breaking a Lantern Moon ebony US1 dpn (they sent me two replacements — hooray!), I switched to US1 Susan Bates dpns (5).

Mods:

One version of the pattern has ribbing on the bottom of the foot. I decided against this, but I did rib the back of the leg of the sock in a 3×1 rib. I also purled through the back loop instead of a regular purl– mostly I wanted to see how it looked. I love how it looks. I pretty much used the stitch count that Marnie suggested for the large size and followed the chart, doing a short-row (backwards yarnover method) toe and heel. Russian bind-off (purlwise).

Other:

I really like the pattern — it would look great in something "almost solid." I probably won't make another pair (because I have issues making the same thing twice as it is!), but I do recommend the pattern!

I also love the yarn. I will be getting more Socks That Rock — hopefully at MDS+W in a few weeks (because I need more sock yarn… right).

Now to pick up a postcard and get ready to mail this out to my secret sockpal at the end of the month!