It just wouldn't be Halloween without a pair [!] of finished socks.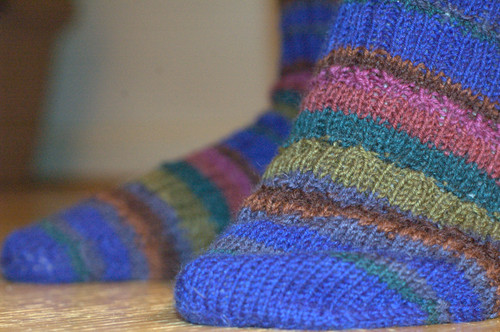 undulating rib
I actually managed to finish a pair of socks during Socktoberfest. Hooray for me!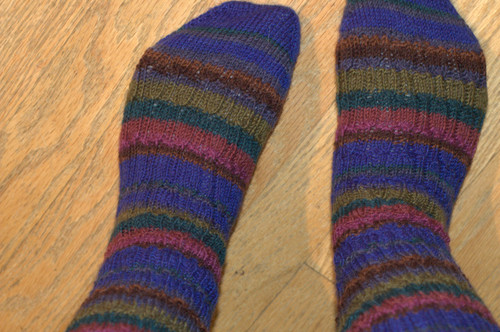 I totally love these socks
This has been my in-the-bag project. I started the first at one of DH's hockey playoff games while his team was getting geared up. I worked on it at the dirt race track. I knit on it during server maintenance at work. I worked on the second sock during intermissions at a handful of Caps games. And finally, I finished it today while chasing away a migraine and feeding kids sweets.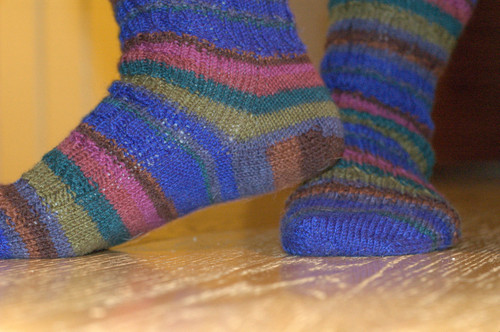 the heel deal
Details:




Pattern

Undulating Rib Socks, Ann Budd. Published in Favorite Socks (Interweave). [ravel it!]



Yarn

Regia Design Line Kaffe Fassett in Landscape Twilight (4257)



Needles

first sock: Knit Picks US1 dpns until I dropped one through the slats in the bleachers at Winchester Speedway. I finished the first sock and knit the second with a Knit Picks US1 24″ circular



Started-Finished

27 Aug 2008-31 Oct 2008 (not very speedy!)



Notes

Of course, I can't leave well enough alone, and I modified the pattern to toe-up with a new-to-me heel. I started with a figure 8 toe, increasing to the 66 stitches as specified in the pattern. I followed the pattern to the heel.


Once there, I decided I would try something new — a flap heel, but worked such that the flap was on the bottom of the foot rather than against the back of the heel. I worked the flap over ONLY 23 of the 33 foot bottom stitches and worked a standard heel cup, then picked up the stitches along the flap for the gusset. The heel feels quite good — I was surprised because it looks different.


I increased one pattern repeat per side in pattern starting a few inches above my ankle for "calf fullness." (HA!) Once I got to the top of the cuff, I bound off using the Russian bind-off, which I find to be stretchy enough to go up over the calf but not so loose the socks fall down.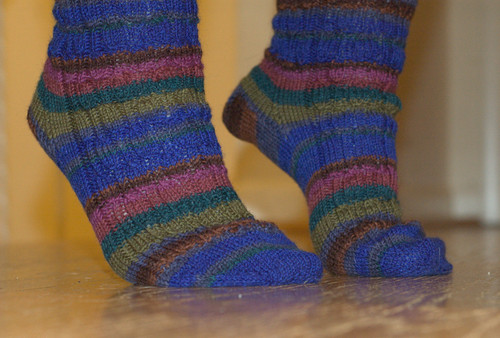 new fall socks!
There is something about the Regia yarns that always keep me knitting. I'm not sure what it is. They tend to wear very well and I seem to be able to knit them very quickly.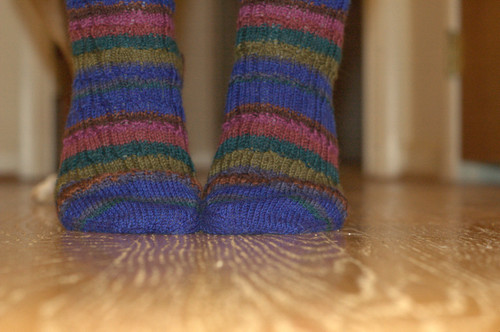 hooray!

Hooray! I love new socks! Maybe they will help get me through this cross-country move mess!