I moved to Seattle shortly after graduating from college, after the startup I had worked at for the previous three years in Atlanta went through major layoffs and those of us who were kept were not paid for a few months (yes, I worked without pay for a few months).
After I had lived in Seattle for almost a year, my dad decided the family should come visit me in my new city. I think he was trying to understand how I moved so far away and why I said Seattle was the most gorgeous city I had ever lived in. My parents and three siblings flew out to visit me. They spent a few days in town and a few days up in the San Juans, north of Seattle.
I think he understood my love for the area by the time he left. I wonder sometimes what he would think if he knew DH and I moved back to the not-so-scenic DC shortly after his death.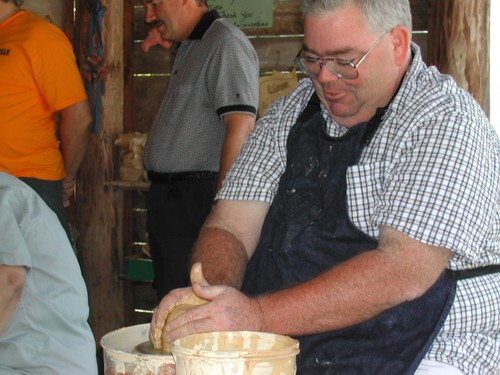 Dad throwing a pot on Orcas Island
I think of Dad sitting at this pottery wheel — fumbling but smiling — when the side of me that is afraid to try new things speaks up to try to discourage me. Miss you, Dad. Thanks for all the inspiration and support and understanding. You were a great Dad.