While I knit the sleeves for the Cabled Hoodie (ravelry), I kept checking the schematic. Right length? Yep. Then I would compare the shaped cap to the shaping on the back. Hmm.
I would squint, pull the fabric a bit, re-check the schematic, re-measure the sleeve cap and when everything measured out just right, I would continue to knit. But the nagging suspicion was there.
So, when I lay the sweater on the guest bed to block, I did block the sleeve caps a bit aggressively.
This past weekend, I got tired of Claw napping on the blocking sweater pieces and I started to seam. I seamed the shoulders on the cabled hoodie and then I attempted to fit the sleeve cap into the armscye.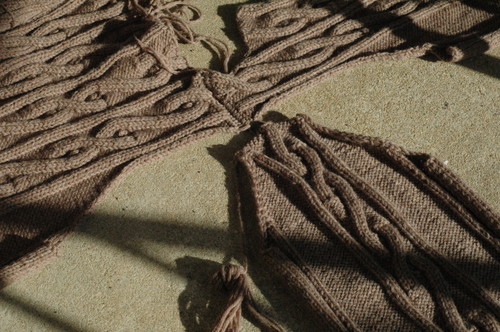 sleeve cap and armscye
Yep. As I suspected, the sleeve cap really needs to be about an inch and a half to two inches taller.
Which, really, I knew all along. But I checked everyone's project notes on Ravelry, I checked for errata on the schematic, I measured (and measured and measured) with multiple measuring devices.
And I completely discounted my own instincts. Shame on me!
That said, I've tried on the body of the sweater and I like the size and length of the armscyes, so thankfully the fix is the much simpler, less work "rip back and reknit the sleeve caps, re-working the decreases." Since the sweater is a warm, wooly thing and it is late spring here in DC, I'm not in a hurry.
But I am very much looking forward to wearing this sweater.