On Monday, I had a conversation with my husband that went a little something like this:
me: Hey, I am going to the sheep festival this weekend.
DH: awesome!
DH: Ha, you are going to come home with SO MUCH MORE wool.
me: no, no, I already have plenty.
DH: oh, it's O.K. — you made me my sweater, get as much wool as you want.
Ha! Well, I may have added something else to the festival shopping list for him — yarn for Fugl (I'm going to be looking for a festival yarn comparable to Lopi, not Lopi itself).
Currer is coming along: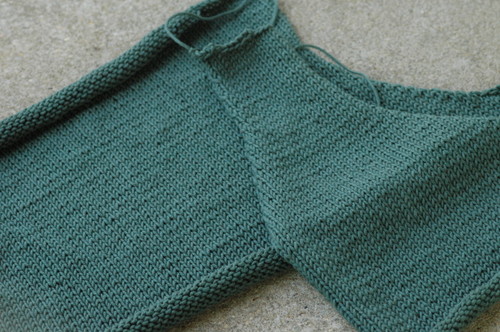 currer back & left front
A bit of rowing out there, but it'll even out with a wash. Next up is the right front, then the peplum. I'm leaving the sleeves for last. Love the yarn, enjoying the pattern!