What's this?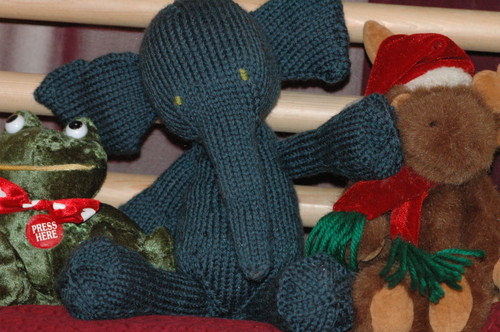 elijah and friends
It's Elijah!
Quick Stats [ravelry project notes]

Pattern:

Elijah, by ysolda. Pattern can be purchased at her shop or on ravelry. [ravelry pattern]



Yarn:

Mission Falls 1824 Wool in teal, 2 skeins. Small bits of Knit Picks Merino Style and Dale Baby Ull for details/seaming.



Needles:

US3 Knit Picks Harmony dpns



Started-Finished:

17 Mar 2008 – 4 April 2008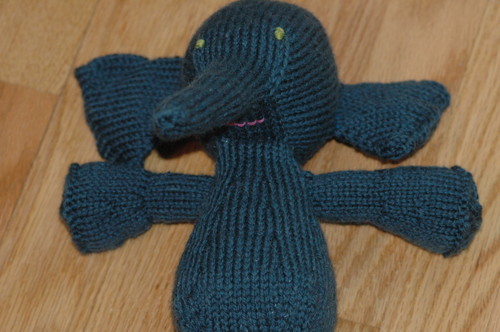 Elijah on the floor
I love the way he turned out. I ran out of yarn before I could knit him a tail, so he is going without for now.
I cannot say enough about how well-written the pattern is and how well-designed the PDF layout is. Ysolda obviously spend a lot of time on it. It is fantastic — highly recommended!
My only deviation from the pattern was the ears. I simply could not get the stitches picked up properly/evenly/easily from the head, so I knit the ears separately and seamed them. I also ran out of yarn on one of the ears, omitted one row from the second ear, making them not symmetrical.
When N saw that I was knitting an elephant, he said, "Is that for me? Did you know elephants are my favorite animal?" Uh… OK. He relented later on and told me to give it to our niece (the original recipient) and suggested that maybe I could make another one for him later on. He was sad about the lack of tusks, however.