I swore off swaps last year not because I'd had any bad experiences, but because I was worn out from participating in and organizing swaps. During that time, there was one swap that I very much wished I had relented and joined.
Emily (Yarn Miracle) organized the Wee Tiny Sock Swap last year as a low-stress but fun and quick sock swap (here's the 2007 flickr group). I spent quite a bit of time looking at little tiny socks and thinking how neat it was to see mini socks and so many different types of sock yarn.
When Emily posted about this year's Wee Tiny Sock Swap, I joined!
On Friday evening, I received my swap partner's name (and an email from the person making my wee tiny sock — it was nice to hear that someone received my information – hi!) and I knit a sock: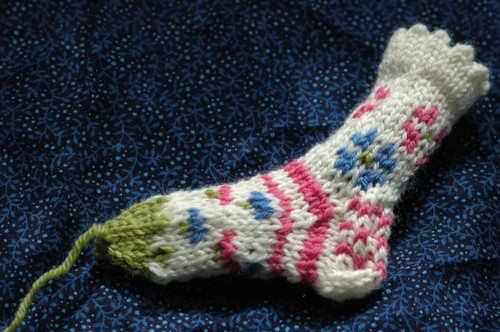 the first
I wasn't happy with it. I liked the picot cast on and I liked the colors and the toe, but I hated the stripes and the heel. It wasn't exactly what I had in mind. So I knit a second wee tiny sock.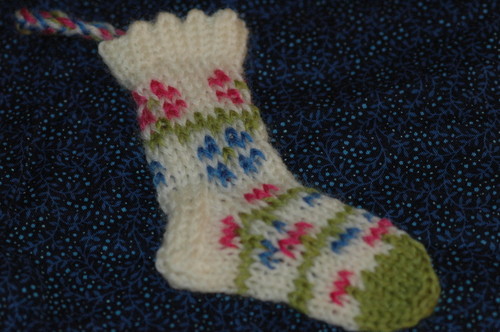 wee tiny sock the second
I was happier with this one — though not 100% happy — and decided this was the one I would send to my swap partner. I picked patterns from my Latvian mittens book and put them together. It was knit over 20 stitches on US1 needles. The yarn is Dale Baby Ull in 0020 (natural), 9436 (green), 4516 (fuchsia), and 5726 (blue). I love Baby Ull. Knitting over a small number of stitches really made putting the patterns together difficult.
I hope my swap partner likes it! I dropped it into the mail at work today with an extra stamp just in case the envelope was too thick. The proof of concept sock will become decoration for my office.
If you are curious about what others have knit for the swap, here's the 2008 flickr group and here's the Ravelry group.