I have been following Jan's (be*mused) absolutely gorgeous mitten knitting (also this one). Each mitten is gorgeous — the patterns, the colors, the shape. Oh, mittens!
I had a couple of talks with E (Poking My Eyes Out) about not wanting to knit two mittens. I just want to knit singles. But possibly many, many singles. I had some crazy idea about wanting to hang them as decoration, like from a decorative clotheline. E suggested frames/shadowboxes and assured me that I wasn't (too too) crazy to think of colorful mittens as art/decoration!
I pulled Latvian Mittens (Upitis) and Knitting Marvelous Mittens (Schurch) out of the bookcase and spent some time flipping through them, thinking about color combinations. I picked out colors (just three: sky blue, plain ol' blue, and ORANGE). I picked out a few patterns (Latvian only). I cast on using the 2-color cast on. I worked the Latvian 2-color braid. I knit.
I got to this point and decided that the uppermost cuff band was not working for me. It was too large relative to the size of the mitten.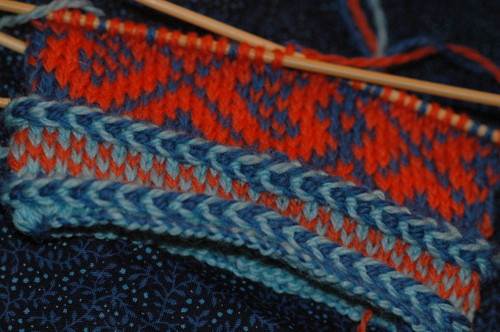 drats
I thought about it. Should I rip? Should I leave it? I like the pattern, just not at this scale.
Eventually I decided that if I were going to knit these as decoration, I should have no question about the pattern. I frogged.

mitten cuff
I am back where I started. I've picked a new band that I think I will be happier with. I can't wait to finish this mitten and move on to the next one!
[also, here's a bunch of free Latvian mitten/glove charts. Oh! Mittens! ]