Friday evening, my lovely husband asked me if I could knit him a hat. "Black or grey or something neutral. One that will roll up. One that is taller than the last one you made me."
"Oh, and only if you can finish it in two days or less because I think it is going to warm up soon."
Clearly he thinks I can knit like the wind.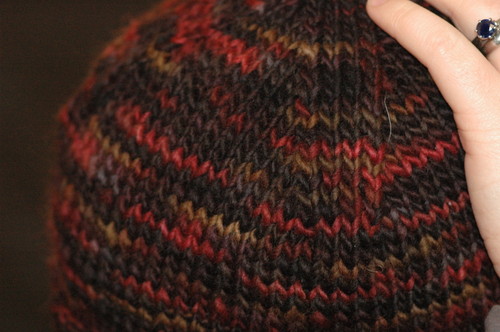 mm mm mm manos
Obviously the yarn isn't exactly black. I used Ravelry to find a picture of a hat knit up in this colorway of Manos Del Uruguay (Lava), showed it to N, and he said that color was fine (read: masculine enough).
I cast on 88 stitches Saturday night after the Caps game (bleech, don't ask me about that game), worked 2×2 rib for about 2″, then continued in stockinette.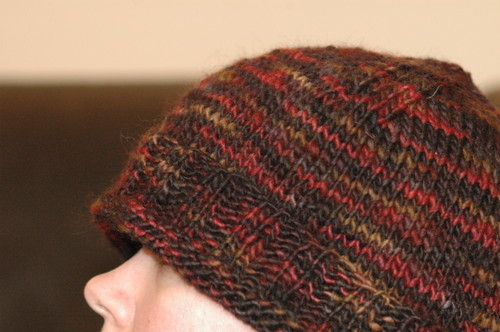 it's a bit big on me
I worked four sets of double decreases around two plain stitches, which made for a nice smooth, non-spiral top.
It is a little big on N, but he says he'll wear it. If not, I like it and I'll take it, way too big for me or not.
Quick Stats –

Yarn

Manos del Uruguay, Lava. Black with red and yellow. Obtained in a trade with E (pokingmyeyesout). Thanks, E!



Needles

Knit Picks Options, US8. I magic looped when there were too few stitches.



Started-Finished

1 Mar 2008 – 2 Mar 2008. A quickie!



Pattern

no pattern, see above.


Now back to my new wool-sweater-for-me in progress: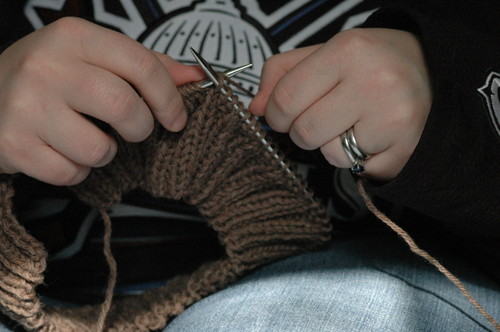 looooooots of ribbing
Ah, Cascade 220. How I love thee.