It's a bit coincidental that I have two socks (well, three, but two are the same) on the needles right now that fit right in with the current Project Spectrum theme of Fire (red, orange, pink).
First, we have the mate to my fourth self-knit sock ever!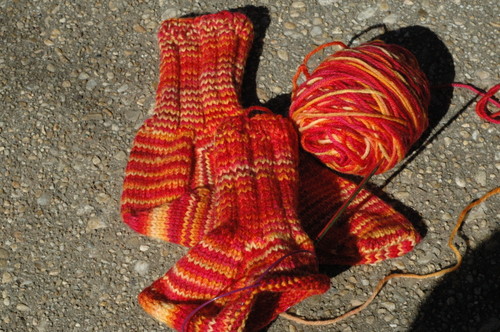 ellen's 1/2 pint farm, not sure of colorway
I bought the yarn at MD S+W in 2005, knit up the first sock and then… well, I guess I got distracted. I'm almost done with the mate (that picture was taken a week or so ago), but I am going to rip back the toe of the first sock and knit it a bit longer. There is a huge difference between the socks in terms of the skill of the knitter!
The other socks are my shibui socks.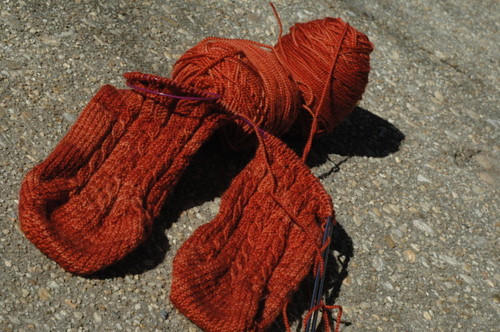 shibui sock, pagoda
I am past the heel turn and am slowly making my way up the leg. I love the yarn — I'm not having Ashley's (dogged.) pooling problems but I think that is because it is less extreme in the deep orange than in that gorgeous magenta/plum color.
As for the yarn, I love it so much I bought 2 more hanks:

shubui sock, midnight blue
Not that I need any more sock yarn.