The cold I have is kicking my butt. In three plus weeks I've gone from a minor cold to a major cold with a stop at bronchitis and a stall at sinusitis. I'm tired and cranky and if I want to start a new project, I will, darn it!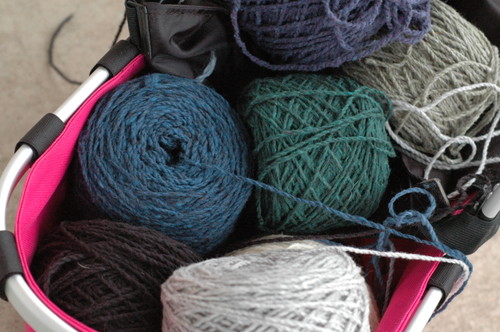 just a basket of woolly goodness
Three years ago this month, I ordered 12 hanks of Beaverslide Dry Goods yarn. I was planning to crochet a sweater in the four colors I purchased (three shades of blue and ecru). I love the colors, but everything I've tried with them has not worked. I am really trying to work from what I have. I finally made the decision that I would knit a Philosopher's Wool sweater I love in this yarn (instead of buying a kit) and supplement with a few extra colors from Beaverslide. Is a $20 book and $40 more of yarn reasonable rationale for getting some yarn out of stash? After three years? Yes, for me.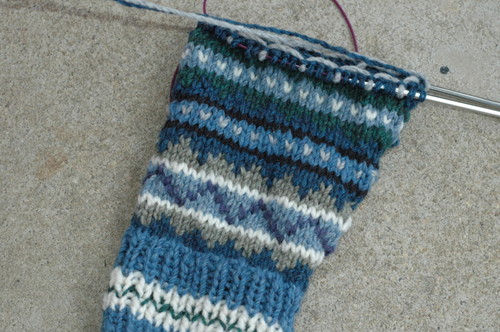 the first sleeve
I didn't realize it when I picked out the other colors, but I went with a very "cool" palette. I'm happy with the colors overall. I'm following the "just pick a color, silly" method and aside from one color pairing in the sleeve, it works for me.
This is a process project for me. I may never wear this sweater. I just really want to knit it. I love the pattern and the yarn.