I am still working through the items-without-mates. I admit I am picking the low-hanging fruit first. An anklet?!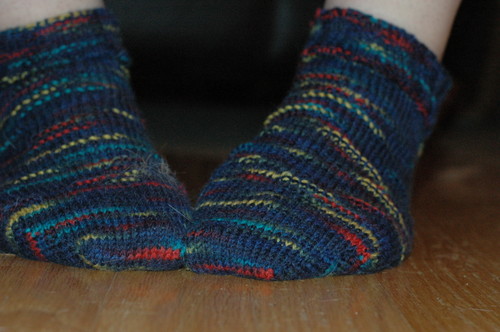 blue anklets
But a sock needing a mate is a sock needing a mate. And this is a new pair of socks for me to wear. Ta-da!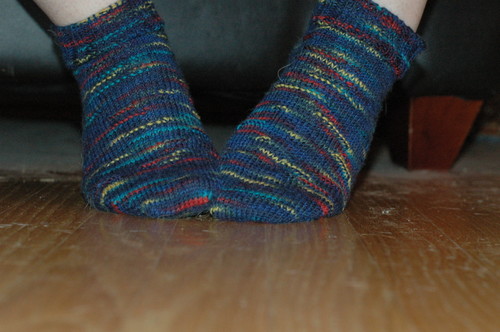 regia anklets, nevermind my dusty hardwoods

Quick stats –
Yarn: Regia of some sort, I no longer have the ballbands!
Needles: US1
Started-Finished: September 2006 – January 2008 (yeeeow!)
Pattern: No pattern. Toe-up, short-row toe and heel. I purled stitches periodically when a non-blue color appeared so it has a little bit of interesting texture along the top of the sock. That's it.
Ravelry: plain old anklets (sorry, you have to be on rav to see it)

I've been browsing the rest of my mateless ones to pick my next mateless project.

While I muse on that, I've picked up another unfinished project — my silk corset.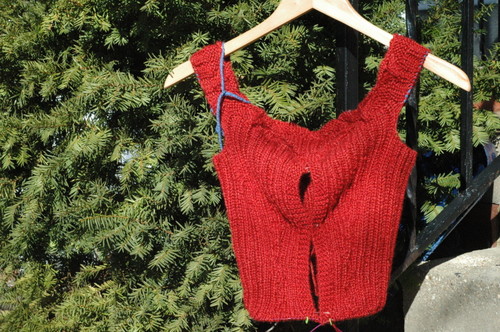 it's so red and shiny
I think I may have another 6″ left to knit on the body before I add sleeves. I'm a little skeptical that this pattern works with the yarn (Knit Picks Elegance), but I do love the color and the sheen. The rib pulls in like mad!
I've been accumulating yarn this month (stressed? buy yarn! er, maybe that's not so healthy), but I hope to finish up a couple of projects and then allow myself to start up a new one (or two). Must finish projects!