I had quite the weekend, finishing three projects. I don't think I'll be anywhere near that productive for the rest of the year, but it sure feels good now!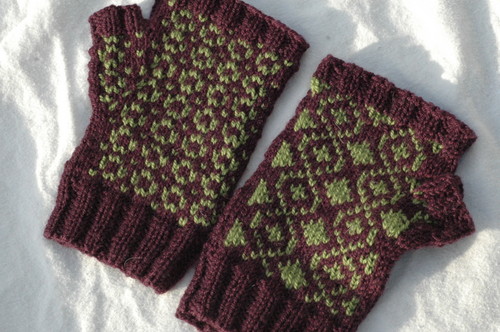 fingerless mitts
Quick Stats

Mitt Pattern:

none, but I can recommend Eunny's endpaper mitts for a similar pattern.



Stranded Patterns:

Both stranded patterns are Faeroe patterns listed in Traditional Scandinavian Knitting (thanks for the book, E!). The diamond pattern is on p122, pattern e. I believe the circles are on p 115, pattern e.



Yarn:

Louet Gems Sport Weight Merino in Eggplant (#42) and Fern Green (#39). I bought the hank of eggplant at Uniquities in Vienna, VA; I bought the hank of fern green at Aylin's Woolgatherer in Falls Church, VA (my two favorite LYSes). I can't recommend this yarn enough! I used less than 50g of each color for the pair.



Needles:

Knit Picks nickel-plated fixed circulars, US2 (3mm).



Started-Finished:

29 Sept 2007 – 5 Jan 2008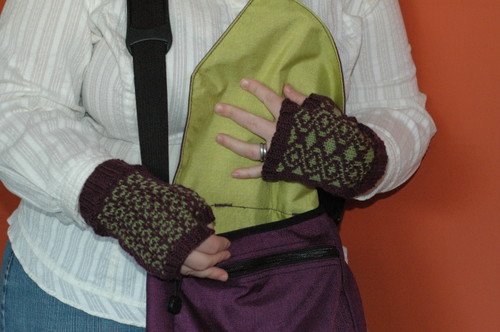 matchy matchy
While I was too silly to match the stranded pattern on the fingerless mitts, I have no problem coordinating them with my new Tom Bihn Cafe Bag (for the curious, it's a size medium).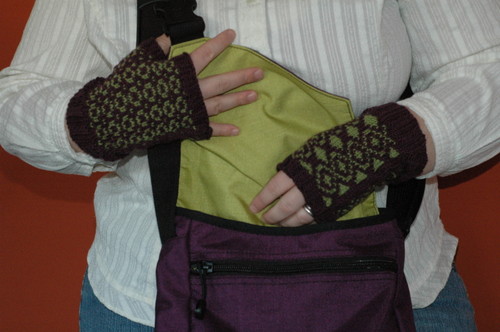 new bag
The mitts are still a bit damp, but the only problem is that the first one (the diamond one) I didn't handle the long floats well across the edge seams (also where my magic loop looped). Next time I might add a contrast color stripe up the sides to help with this. I also intentionally paired little circles with large angular diamonds, so they perhaps don't look quite as matched-but-not as they could.
However, the colors of the bag and the yarn? Perfect match.