I finished this sweater back in November — I actually wore it on Thanksgiving! — but it never got an official writeup because I was too busy knitting the Mandelbrot Wave sweater for my sister K.
DH and I ended up in Toronto for New Year's Eve and I decided that a warm, wooly sweater was the perfect accompaniment for December days in lovely Canada.
The Stanley Cup was the perfect accompaniment to the lovely Icelandic sweater.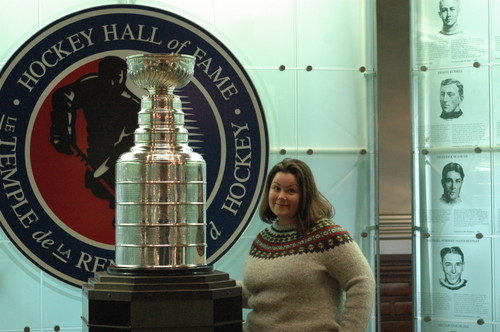 the Cup, Aftur, and a slouching me
Seeing the Cup and being able to touch it and look at it up close? That was one of the most unique experiences of my life. It was completely awesome. The entire Hockey Hall of Fame was really, really cool and if you're a hockey fan and find yourself in Toronto, take a couple of hours and pop in there. It's worth it.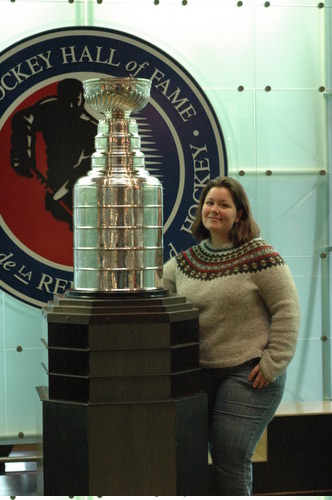 Stats 'n Facts on the sweater:




Pattern

Aftur, Lopi 25, designed by Vedis Jonsdottir, knit the largest size (44″?)



Yarn

main color: Ístex Létt-Lopi #0054 (not quite 8 full balls used);
Ístex Létt-Lopi #0005 (black, almost 1 full ball used), small amounts of Reynolds Lite Lopi in red, kiwi, and turquoise; KFI Cashmereno for the lined neckband



Needles

Knit Picks Options, US7



Started-Finished

27 October 2007 – 13 November 2007 — less than a month!



Modifications

Not many. I added two rows of contrast trim at the cuffs, which a number of people have mentioned that they like the look of. I added waist shaping (just a few decreases). I used a different, softer yarn to line the neckband. I also made the sweater larger than I normally would have because I knew I would be layering it.


Overall? I love this sweater. If I could change anything, it would be to bring the armpits in a bit. I'm not exactly short (I'm 5'6″) but I am short between my armpit and top of the shoulder. I've noticed this while knitting raglans — they usually want me to knit them to 12 inches or longer — I'm happier in the 8-9 inch raglan length, and then I add short rows and sometimes increases in the bust to accomodate it. Maybe I just like my armpits snug? Since I followed the yoke in the pattern closely, I ended up with a sweater with a yoke a wee bit longer than I like. I'm still happy with it, darnit!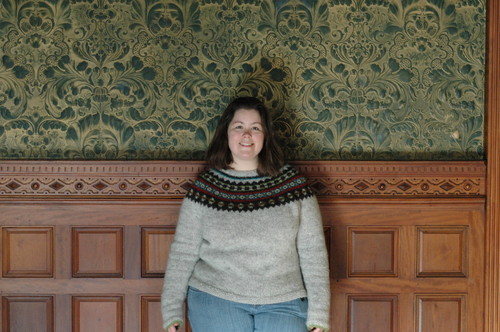 another room in the Hockey Hall of Fame
Unfortunately a nice handknit sweater won't help you with your wrist shot:

me taking a shot at the HHoF
My form was all wrong that day. I did take a few at over 30 mph, but could not lift the puck. At least I had a sweet-looking sweater, even if I had a sad-looking wrist shot!