I gave the sweater to my sister K on Christmas Eve. I'm going to take this shot (excuse the poor indoor flash shot) as proof that she likes it: she gave me finger guns!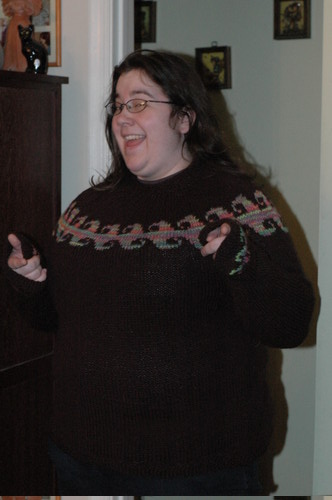 finger guns!
It fits, the color suits her, and I think she likes it! Success.



Pattern:

inspired by Adrian's (hello yarn!) wave yoke sweater, with a stranded pattern at the cuffs that I came up with (inspired by Turkish patterns) and the wave pattern at the yoke designed by Adrian.

Yarn:

Cascade 220 #7822 (deep chocolate brown) – not quite 5 hanks worth. Also my own handspun corriedale in the colorway Lantern Festival, dyed by Adrian for the Hello Yarn Fiber Club — I still have plenty of this yarn left.


drying flat

Needles:

Knit Picks US8 Options

Started – Finished:

23 November – 23 December



Ravelry Project Notes:

ravelry [you must be logged in to view]
It was a fun, quick knit. I worked seed stitch cuffs, hem, and collar. I added the stranded pattern at the cuffs, and I worked a double thick collar. Otherwise it was knit knit knit around and around and around, comparing it against another sweater for size.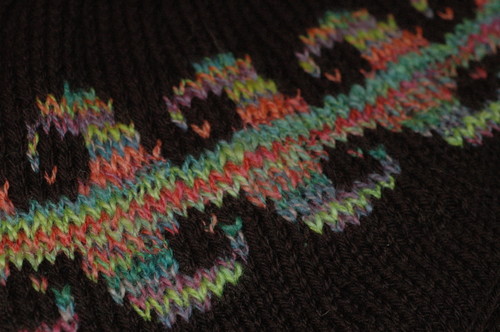 short color runs, but it worked out
The wave is awesome. Hooray for spirals!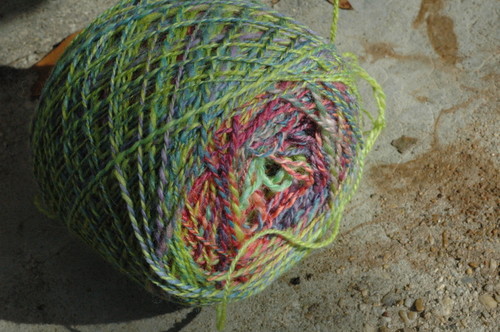 handspun — most of it is left
I'm not sure what else to do with this. Maybe socks. Maybe something else stranded.