For Christmas, Santa Mom — always an enabler — gave me two knitting-related books I wanted. One is Cat Bordhi's New Pathways for Sock Knitters: Book One. Given that I am, shall we say, bored with traditional sock construction, I thought this book might help rejuvenate the sock mojo. With two bins (maybe 60 pair worth?) of brilliant sock yarn, I really need to knit socks or … get rid of all the sock yarn (gasp).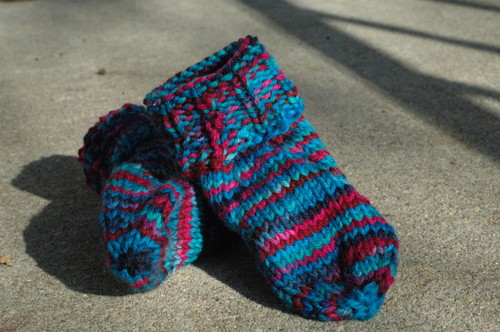 [not so?] little sky socks
For now, I think we're knitting socks!
This pattern is the first learning pattern to start the brain working on socks in other ways. The "Sky sockitecture" is one of 8 "new" constructions for socks that Cat Bordhi covers in the book. I can't wait to try out another "sockitecture" — this pattern held my interest and I am guessing that the others will as well. I just need to find needles and yarn and pick another pattern!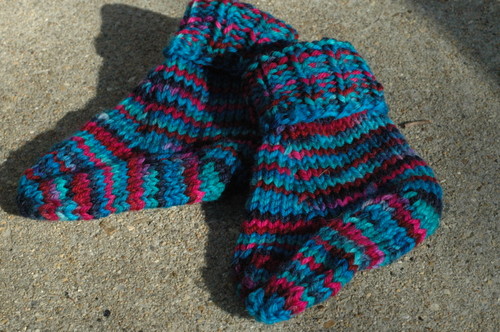 flat socks
This sock was quite simple. It's difficult to tell with the yarn I used, but rather than a traditional gusset, increases for the ankle portion of the foot (where the foot is widest) are worked in the center of the sock, making a triangular section. I find it looks rather neat!
Quick Stats –
The yarn is Interlacements Toasty Toes. I'm not sure what colorway, but it's mostly turquoise with patches of fuchsia and teal. It was very soft and smooth to knit — I have plenty left of the 8oz hank. I'm not sure what else to knit with it.
I knit on US3 Knit Picks Harmony DPNs. Four of them. I ignored that the instructions said to use 5 needles (ohh, rebel!).
I started the first sock on 24 December and finished the second sock last night, 26 December. Baby socks are fast!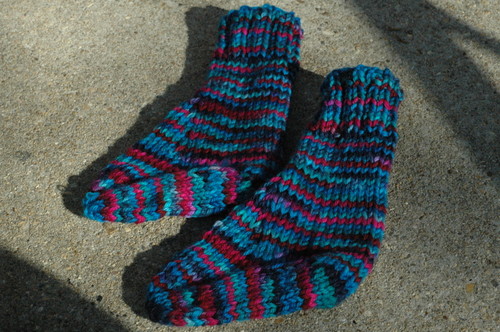 uncuffed socks
The socks themselves — well, I'm not sure they will actually fit my niece. Despite meeting stitch gauge and making the sock to the appropriate dimensions, the area at the ankle looks rather large. Not just large, hysterically large. I am hoping that they will fit her someday and that the ankle/gusset area looks so large because the foot itself is so short.
Overall, an enjoyable knit.
ravelry project page (you must be logged in to view it)