Phew! I finished the big handknit project for this holiday — a sweater for one of my sisters (I hope she doesn't read this post before tomorrow afternoon!) based on a sweater I've long been inspired by — Adrian's (Hello Yarn!) Wave Yoke Sweater. I even swiped her wave pattern for the yoke! I added the waves on the sleeves on my own. And yes, that is my handspun with the deep brown Cascade 220!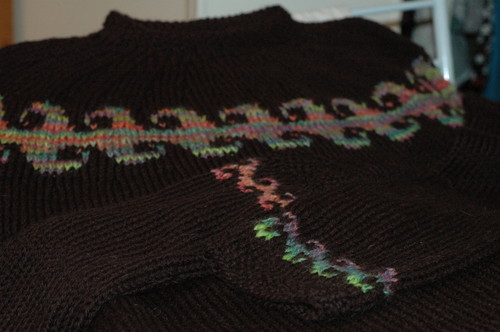 mandelbrot wave (named by hub)
The sweater is still slightly damp and blocking, but I have high hopes that it will be dry and happy in the morning and that my sister will like it. I also hope to get an actual FO shot. I have two sweaters that haven't had FO posts yet because my camera sensor needs cleaning and I am scared!
Once I finished my furious deadline knitting on the sweater, I started a leisurely knitting project for fun — Kate Gilbert's gorgeous Bird in Hand mittens.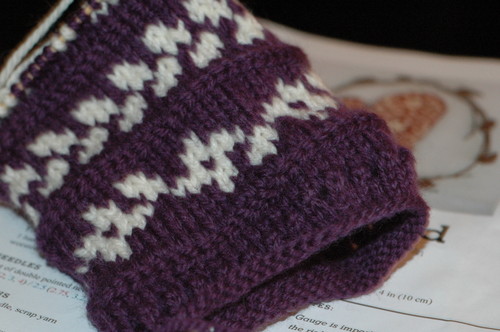 oh, gorgeous, gorgeous probably too-big mitten…
Frankly I don't care who these are for, I just want to KNIT them. This is why I am not stressing out over the fact that despite fighting with gauge and knitting worsted weight yarn on US2 needles (which is not good for my rsi) I think they are 50 foot woman size. I just want to knit them. Or at least one of them.