I finished a pair of socks yesterday during lunch — while eating a
bowl of chili, I kitchenered the toe on the Ladybug striped sock.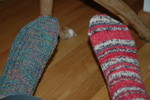 alt="mismatched socks" title="mismatched socks" border="2">

twisty rib, stripey ladybug

Well, I never said it was a matching pair of socks!
The grey sock on the left was worked cuff-down using Magic Loop. It
is my first cuff-down sock using Magic Loop. It is slightly too short
for my big feet so I think these might become a gift for someone.
The red and white and black striped sock on the right has an
hourglass heel (backwards yarnover, not wrapped) and it was my first
tubular cast-on sock (I started it a long, long time ago and gave up on
it after I messed up the hourglass heel). It's very comfy, but needs to
be blocked.
That leaves the toe-up Cherry Tree Hill Supersock sock on the sock
needles — which means I can cast on another two socks! "I
should CO the mates to these two socks," I thought. But of course I
didn't. Instead, I cast on a toe-up ankle sock in Koigu (mmmm
Koigu).
If I were a monogamous sock knitter I wouldn't have this problem!