A couple of days of rainy, cold weather and my own cold pushed me to finish the buttonholes on this cardi. I really like how it came out, though due to the aforementioned weather, the photos are shoddy.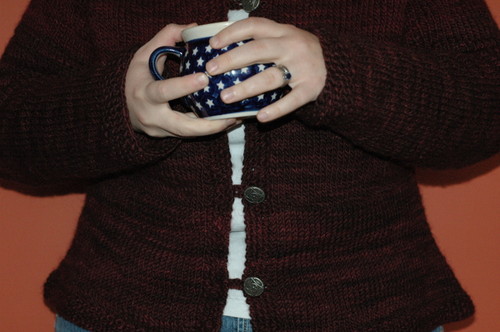 cardi and coffee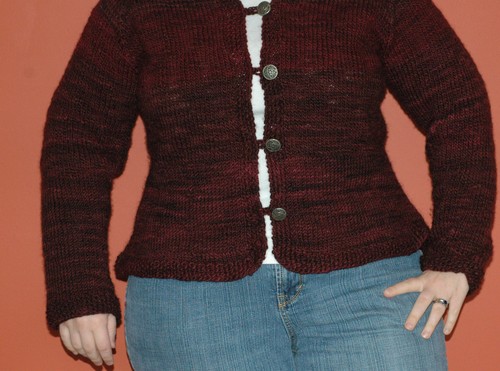 mm mm manos
The stats :

Pattern:



I didn't really follow a pattern, but Laura's (cosmicpluto knits!) Top-Down Cardi v2.0 is a good starting place.



Size:



42″ I think



Yarn:



Manos del Uruguay worsted kettle-dyed in Bing Cherry, acquired in a trade with E (Poking My Eyes Out). Hooray for trades!



Needles:



US7(4.5mm) Knit Picks Options metal circulars



Started-Finished:



February 2007 – mid-Oct 2007. I actually cast on in mid-Feb, then stashed it away in my sweater yarn box until mid-September, when I picked it up because I wanted something mindless to knit on. I finished the knitting on 7 October, but it took me over two weeks to figure out the buttons and buttonholes.



Mods:


Modifications isn't really an accurate description here since I didn't follow a pattern. However, I added short-row bust shaping, bust increase darts, waist decreases, and hip increases (a couple too many hip increases, but it is ok). One of the hanks of yarn was quite a bit different than the others, which you can see as a stripe in the yoke of the sweater. I don't mind, but I know other people might (but I knew what I was getting into when I decided against working from two hanks at once).

I made the cuffs buttoned by casting on 6 additional stitches, working them flat, and adding a buttonhole.


I love buttoned cuffs

I curved the front cardigan hemline by working appropriately slanted decreases in pattern.


I love the buttons and the curved center

After numerous buttonhole attempts, I finally went with crocheted chain buttonholes. I'm happy with them.


buttonhole



Overall it was a quick, simple knit. It's also a very wearable sweater for me to wear to work or hanging around on the weekend. I'm happy with it. Thanks for the yarn trade, E!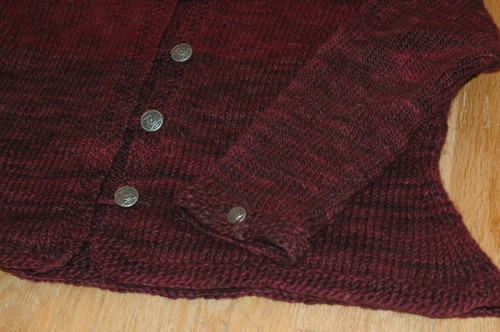 waist and hip shaping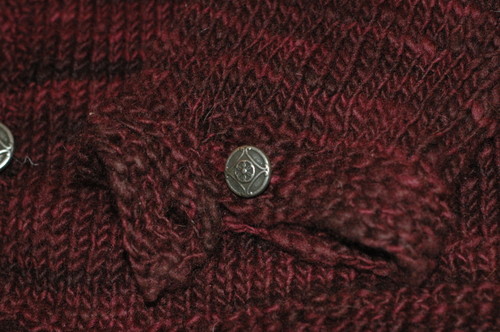 unbuttoned cuff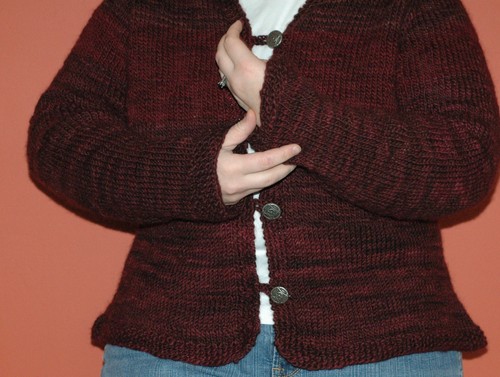 one comfy sweater