DH and I (and various other people) have been working on the yard lately — right now my backyard is piles of dirt and there's a full dumpster in my driveway full of tree roots and huge rocks and cement. On Saturday morning I worked in the yard as long as my wrists held up, and then I decided to go visit my mom and go to the orchard near her house to pick up some autumn produce.
Mom teased me when I called her before I left, "I have something small for you!"
When I arrived at her house, she handed me two things.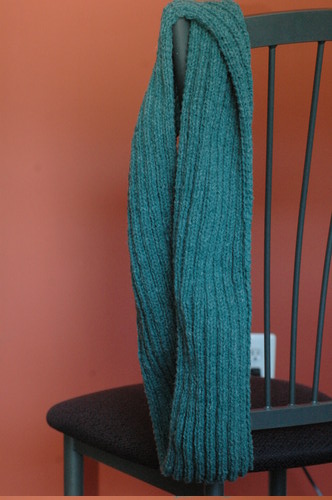 möbius strip à la EZ in Fingerlakes Soft Wool (Clover)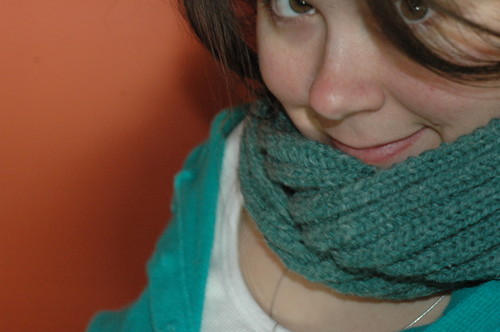 dorky me in möbius
A Möbius strip scarf based on EZ's pattern in Knitting Around, knit in Fingerlakes Soft Wool (Clover). Mom bought one hank of this yarn at MD S+W this year specifically intended for this pattern. I think it turned out great — it's soft and warm and a perfect customizable size to be worn in many different ways. I love it! Thanks, Mom!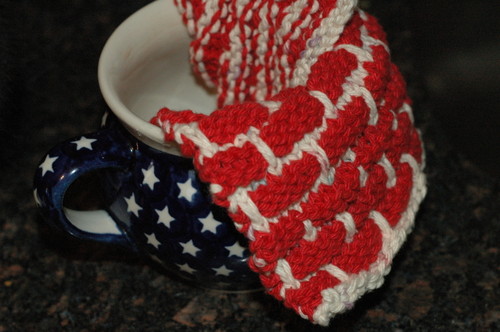 bricky dishcloth and my favorite mug
The mug was a gift from Mom at this past Christmas, and it is my favorite. But the dishcloth is new — I've knit this pattern, but never for myself. I love the way it looks and I find the bricky bands to help scrub. It's a useful, fun knit. Hooray!
This afternoon, MiL had us over for lunch. She sent me an IM earlier this week, "I found something in Iceland I think you'll enjoy!"
Never did I expect this: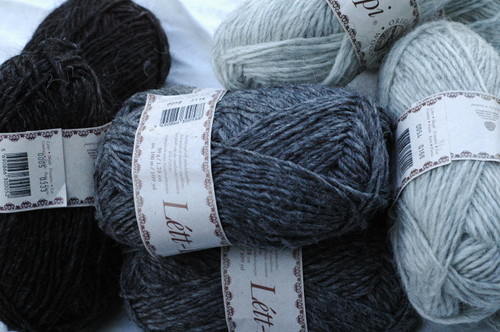 istex alafoss létt lopi direct from Iceland, plenty for a sweater or two
Funnily, I was browsing for lite lopi recently but did not order any. I love these colors! Thank you, MiL!
I am feeling very lucky and spoiled today. I hope everyone has had a great weekend!