It seems like eons since I finished an adult human sized sweater.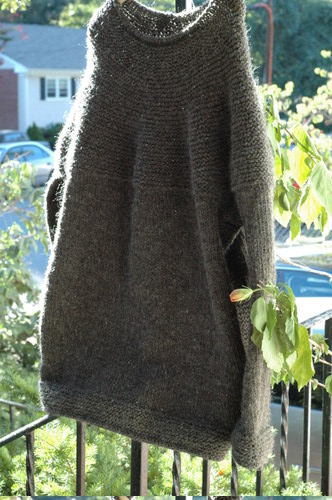 it's done!
DH tried it on and said, "it's like a fisherman's sweater! One I can get covered in fish guts and that's okay!"
Er, not quite. But okay, honey. I love fishing just as much as you do.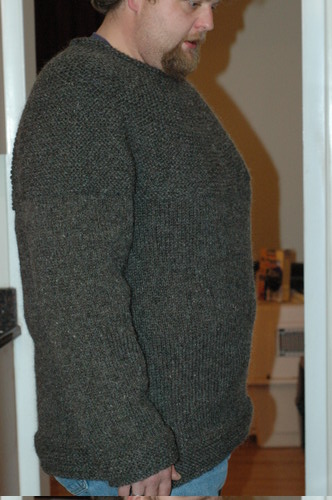 he likes it, he really likes it
The stats :

Pattern:



Cobblestone Pullover, designed by Jared (brooklyntweed), published in the Fall '07 Interweave Knits.



Size:



52″ chest



Yarn:



Peace Fleece worsted in Father's Grey. It's a great charcoal grey with bits of ecru, olive green, and a slight brown tint. I used 8 hanks worth.



Needles:



US8 Knit Picks Options



Started-Finished:



6 August 2007 – 16 September 2007



Mods:
I didn't make too many modification to Jared's pattern.

The first and most minor mod I made was to adjust for gauge. I knew I like this particular color of Peace Fleece at a more loose gauge than the pattern specifies. I mostly followed the numbers for the second smallest size sweater, which at this gauge gave me the appropriate size for DH.

The second modification was requested by DH: he wanted rolled cuffs and hem. Jared's pattern already includes a rolled collar, but DH wanted the cuffs and hem to also be rolled. I simply knit 5 rounds of stockinette stitch before starting the garter stitch cuffs.


detail of the cuff and hem

The third modification was simply a sizing issue. DH is 6'4″ and always has a problem with sweaters being too short. I knit the body an extra 2″ before joining the sleeves and I knit the sleeves about 1.5″ longer than the pattern specifies. This made for a sweater that DH should not have to constantly pull down.


yoke detail

The fourth mod I made was another sizing issue. I followed the pattern measurement details for the 51.x" size, which indicated to work the yoke to 12″ before starting the collar. I followed this and bound off the collar. When DH tried it on, it was simply too open, almost like a boatneck, which is not becoming on him. I ripped out the collar and knit another 1.5″ of garter stitch even before working the collar decreases, which made for the perfect size collar!

I used the Russian join to join in the yarn throughout and I used the Russian bind-off at the collar to ensure that it was neat but stretchy.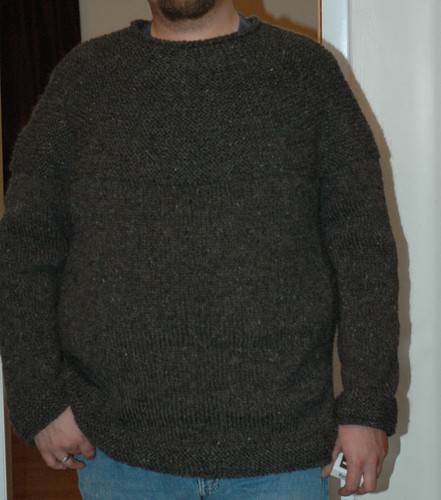 he actually put the sweater on to run out to the store, how cute
The short rows in this sweater really make it fit well, pulling the back collar up and adding some interest to the knit. The sweater is simple and classic, but fits great and looks great on DH (if I say so myself).
Kudos to Jared for a great pattern!