The problem with setting a project aside for months at a time is that sometimes you return to it and despite your best efforts, you misstep, misread and misknit.
the good crosses (note that the sweater is upside down)
the bad crosses (note that the sweater is upside down)
The skirt of Celtic Dreams (in the pictures above, the section above the garter stitch rows), where my sweater has been languishing for months, is made up of one repeat of the center cable panel that runs down the center of the entire sweater surrounded by 4 stitch cables (C4B specifically) and 2 stitch twist "faux cables."
For some reason, when I started knitting the new C4Bs on the skirt, I decided to instead knit C4F instead. Uh. It was a design decision, not a flub. Right.
Except it was worse than that.
In the beginning of the round just before the first center cable panel, I actually worked the cable as specified in the pattern — C4B. After the center cable panel and around the back of the sweater, I worked C4F. Crap. So on the skirt of the sweater, I had 3 C4B cables on the front followed by approximately one zillion C4F.
The question was now: which ones do I fix?
The center panel of the sweater included 2 C4B cables in it that I had knit properly. But the skirt was full of C4F cables and a handful of C4B cables. What to do!
I decided that I liked the look of the C4F cables in the skirt combined with the C4B cables in the center panel. No, it is not how the pattern directs you to knit it. But since when do I follow patterns anyway?
So I laddered down 12 rows and changed the 3 cables in the skirt from C4B to C4F. I am perfectly happy with how it looks now. Consistent. But with a twist (pun intended!).
DH told me that no one would notice and I shouldn't bother fixing it, but I did anyway. I didn't really mind. This pattern is gorgeous. And worth it.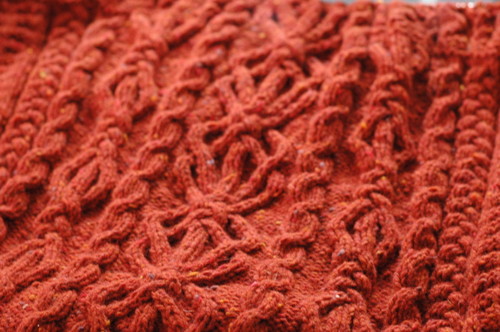 wooly cabley goodness
And maybe, just maybe, I can finish the sleeves before 2008.