My current sock knitting goal is to have two socks in progress at a time: one new sock and one mate to a sock missing a mate. This is working out reasonably well for now, though I fear I will keep knitting single socks and never finish another pair (like a good member of the Single Sock Liberation Movement — that's the flickr group — check it out!).
This weekend, I finished a single knee sock!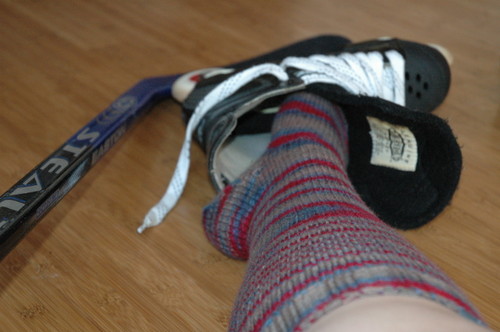 knee sock! and skate and stick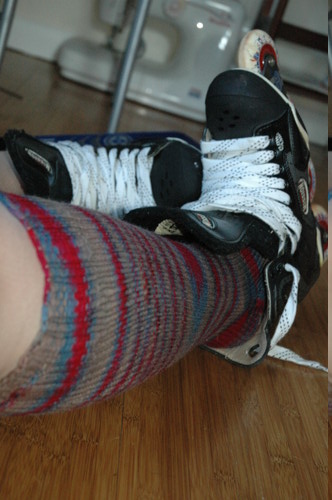 lorna's = yum!
It's Lorna's Laces Shepherd Sport, almost an entire 70g hank worth. I had a bit of fear that I was going to run out of yarn, so I just started at the toe and knit knit knit. I have relatively short shins but large calves so there were a lot of increases once I headed above the ankle.
Once I finished that sock, I jumped into what I was really looking forward to — Lovesticks self-striping fingering weight yarn.

lovesticks fingering weight self-striping in tree frog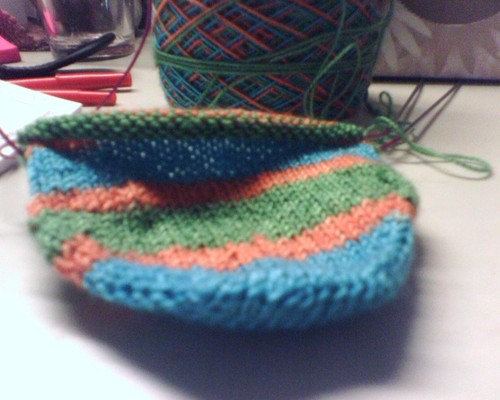 toe up, plain ol' st st sock
cameraphone picture taken at work
I had some gauge issues with this yarn. It's tiny! I had some problems finding a US0 circular (this is my KiP sock, so it goes on a circular) in my needle stash, and even on US0, this fabric could be a little tighter, but I only have one set of US00 needles, and they are double pointed.
The yarn itself is a lot of fun, I love the colors. I also ordered a hank of the sportweight:

lovesticks sportweight in inner child
You can buy some of your own lovesticks sock yarn at the etsy shop.