One week ago tonight, DH's brother and his wife had their first child — also my first niece!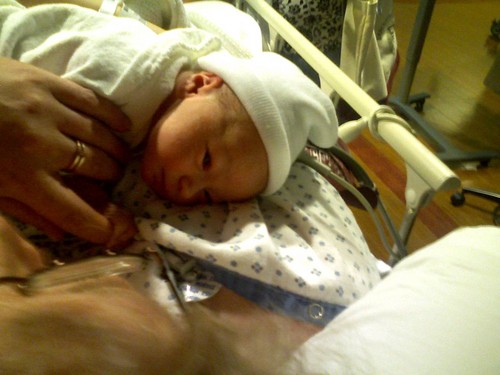 Nola Irene, 7 Aug 2007 23:29:30, 7lb 1 oz, 20.25″
pic taken by DH on his cell phone
She is the cutest thing (as all babies seem to be)! I feel very proud and lucky to be one of her aunts!
I just so happened to finish up one last pre-birth baby knit for her by knitting furiously the night before (I still haven't given this to her mom though! later this week).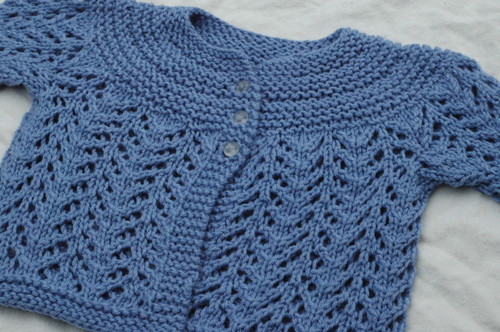 EZ's "February" Baby Sweater / Baby Sweater on Two Needles
I love this pattern but for some reason it took me forever to knit.

RYC Cashsoft Baby DK in 809
they call it "blue boy" but I think it looks almost purple — very periwinkle
The stats :

Pattern:



Baby Sweater on Two Needles, Elizabeth Zimmerman. Published in Knitters Almanac



Size:



looking at my niece now, I'm guessing 6-9 mos.



Yarn:



RYC Cashsoft Baby DK in 809 (Blue Boy), 1.5 balls



Needles:



US5 Clover bamboo circular and US5 INOX metal dpns



Started-Finished:



July 2007 – August 2007, in fits and starts.



Mods:



The biggest deviation from the pattern is that I did not work the sleeves flat and I did not work them before knitting the full body of the sweater. Instead I slipped the sleeve stitches to waste yarn, cast on 7 additional stitches at the armpits and finished the body. Then I went back, picked up the armpit stitches and a few extras and the stitches on waste yarn, and knit the sleeves in the round. I also started the buttonholes near the top and only put 3 of them in (I still have issues with buttons on kids stuff, but I put them on anyway).

The sweater looks strange in these pictures because it was only half-blocked and still damp. It's even and not all curvy like it looks. Not that it will matter much once it is on the wriggly baby!
It's a very cute, fast pattern. Work it in a fingering weight yarn, get a smaller sweater. Work it in a DK weight yarn or a worsted weight yarn, make it larger. Add a couple of repeats, remove a couple. Work a stockinette yoke instead of a garter yoke. It's completely flexible, very cute, and I almost wish I had knit it in white.
Hey: I suppose I can always knit another!