So, it's 100°F outside and very humid. Your 24 year old [!] air conditioning stops working. What do you do?
If you're me, apparently you start a very wooly sweater for DH (again).
Why not? I was already hot…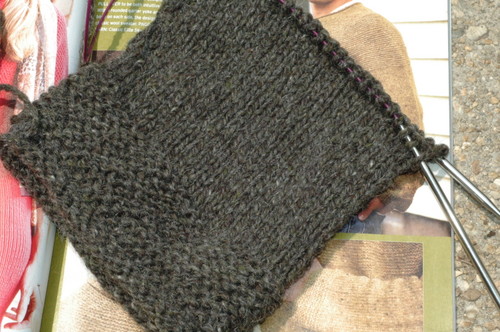 sleeve one, cobblestone pullover, IK Fall 2007
DH likes Jared's (b r o o k l y n t w e e d) Cobblestone Pullover so much that he kept asking me when I was going to start it. I had to wait for the magazine to arrive!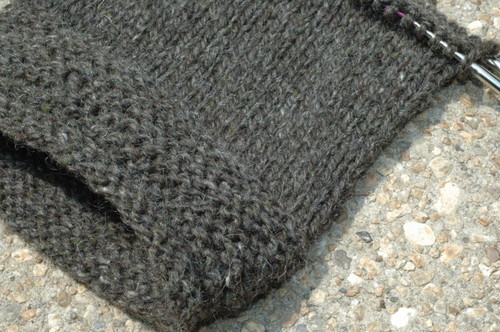 I love Peace Fleece. Mmm tweed.
Yes, magic loop again.
I've already made a couple of minor modifications to the pattern — rolled cuffs (jared's pattern has the neckline rolled; I'm repeating it at the cuffs and possibly the hem) per DH's request and some minor adjustments for gauge. I like this particular Peace Fleece knit at 16 stitches/4″ on US8, which is a bit different from the pattern gauge. Neither change is major.
If I can find a longer Knit Picks cable, I may start the second sleeve and work both at the same time. Sleeves are long, especially for my 6'3.5″ DH!