Admin: A couple of people have been having problems leaving comments. Can you please shoot me an email if you are? Thanks!
-=-
It's no secret that red is my favorite color.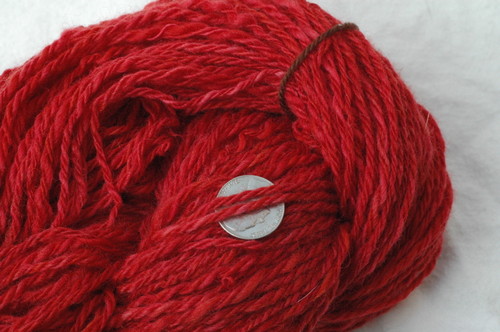 red merino
Can you blame me?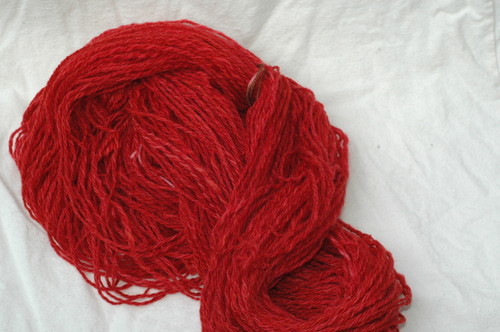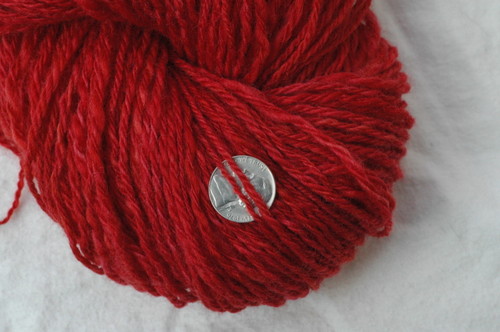 This is my first 3-ply on a wheel.
The fiber is a kettle-dyed merino from handpaintedyarn.com/Malabrigo. It required a LOT of pre-drafting, but it made a huge difference in my being able to spin relatively thin.
I worsted-spun three singles at 6:1 on the Lendrum, testing every so often to make sure I was getting the thickness I wanted.
In retrospect, I think I should have put a bit more twist into the singles.
I plied it at 5:1 with the mostly-one-handed method, which wasn't nearly as fiddley as I expected.

my first 3 ply! it is very red
This is also the first handspun I've really abused in finishing. I soaked it in Kookaburra woolwash (note: it is STILL releasing dye, darn those reds!), soaked it in almost-hot water, removed most of the water, and then thwacked it on the bathtub, about 8 thwacks per 1/4 turn. It definitely changed the yarn for the better, almost evening it out a bit more. Huh. Maybe I'll have to do that more often.
At the end, we have ~170g of a 3-ply yarn at 12-13 WPI, around 324 yd. My target was worsted weight and while it seems to be closer to DK, I think it actually will want to knit up to a more worsted gauge.
[note: my scale may be acting up. It said it weighed 220g, then 160g, then 170g. It was on a flat surface and I zeroed it out prior to weighing, so either it needs new batteries or I need a new scale! This means the weight may not be accurate.]
I didn't like the look of the 3-ply at all until after I wet-blocked it.
This yarn gets the nod of approval from DH ("it's mostly even and it's all one color!").
This was a learning spinning project — I am planning to spin up enough yarn for a sweater. This lead to some confusion when I posted about this spinning project a few weeks ago — this yarn will (probably) not be used in the sweater (possibly in the yoke). This is a learning skein, a way for me to tweak technique and make some decisions about what I am going to do for the handspun sweater.
I have 2 pounds of brown BFL (ordered from Adrian at Hello Yarn!) for the main body of the sweater. DK-to-worsted is about the weight yarn I hope to spin up for it. I am currently pondering 2-ply versus 3-ply — I prefer to spin 2-ply, but I think 3-ply is probably the right choice for a sweater. I'll be doing some sampling of the BFL in a week or so and then I'll have a better idea.