Oh, the singles, the mateless ones. They get to have fun, hanging out together in a drawer partying all the time. Slowly they pair off as new singles join the club.

the singles — here's the flickr link
We've had one single move on to paired off and another who has joined the singles club.
Possibly my favorite pair of socks ever: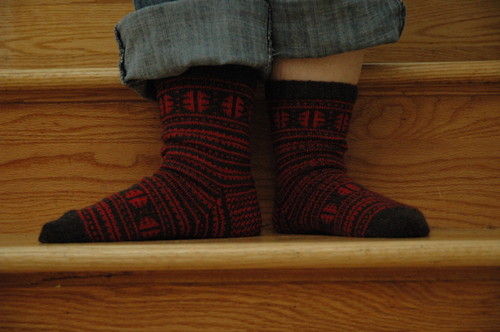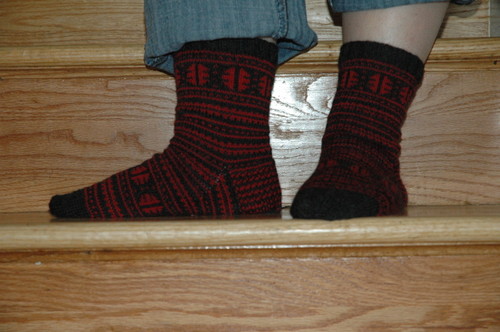 Laila's Socks
The stats :

Pattern:



Laila's Socks, by the always-fantastic Nancy Bush. Published in Folk Knitting in Estonia and in fact the entire reason I bought (two copies of!) the book!



Size:



big!



Yarn:



Dalegarn Baby Ull in a deep Charcoal and Bright Red. I loved working with this yarn — it's soft, superwash, and warm. Love it (and I have tons of it in stash, ha).



Needles:



US1 clover bamboo and — accidentally — US2 clover bamboo



Started-Finished:



June 2006 – June 2007, though the knitting itself was quite fast.



Mods:


No mods, unless you count casting on the second sock on US2 accidentally a mod. I realized this shortly after starting the mate, but decided to keep on with the US2 until the end of the big "bug." This is why one sock is ever so slightly larger than the other. I don't mind (obviously).
The new single joining the club is a handspun sock.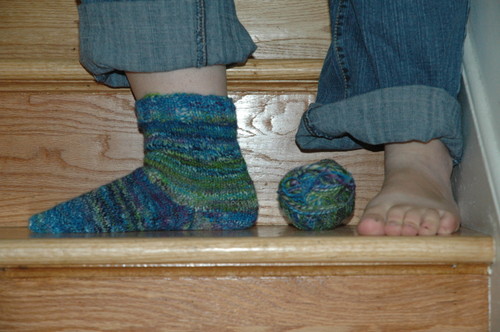 my handspun, knit up
This is superwash merino I ordered from Adrian at Hello Yarn about a year ago. I finally spun up 4 ounces of the 8 I have about a month and a half ago. I was initially going to knit fingerless gloves with it, but I accidentally cast on a few too many stitches and turned it into a sock instead.
After I finished the sock, I assumed from looking at the leftover ball that I would need to spin up some more yarn. However I weighed the sock and the leftovers this morning. Surprisingly, the sock weighs 43g and the leftover ball weighs 49g! So I should be able to get the mate out of the leftovers. Sch-weet!
Knitting with my handspun has become quite the enjoyable experience.