This weekend and next week are/have been completely insane and action-packed.
Somehow in the middle of everything I've found the time to: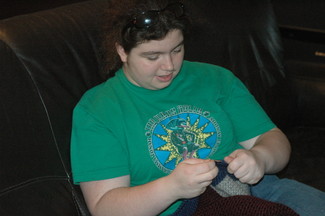 how serious she looks!


Teach my youngest sister the knit stitch.

She mentioned a few weeks ago that she was thinking about learning how to knit. We had a few minutes in between ice skating and dinner on Friday night, and I just so happened to have my Log Cabin afghan in progress sitting at the ready. She picked up the knit stitch quickly and easily and almost finished the (very long) row before we headed out for dinner.

She is going to be an RA (apparently Georgia Tech was the only school to call them CAs) in a dorm at Cornell in the fall that is known for its SnB group. So much so that she was asked in her interview if she knit.

SisM, "Not yet, but my mom and one of my sisters do." Well, by the end of the summer, the answer to that question may be, "yes!"

Knit a strawberry hat.


so sweet i can taste it!

I love Ann Norling's fruit cap pattern. I bought it a couple of years ago, set it to memory (it's pretty basic; you can figure it out on your own), and have now knit five of these. Different colors, different sizes, different yarns… same effect: CUTE!

This one I started and finished yesterday, 23 June 2007. I mostly knit it in the truck on the way to the Rush concert.

The yarn is TLC Cotton Plus in red and moss. I knit it on US7 needles, both Addi Turbos (until the decreases) and KP Options (magic loop). I have wrapped it up to take to the baby shower in an hour.

There's a couple of knits on the needles I haven't mentioned here (but I have updated one of them on Ravelry) that I hope to push forward this week in between the vet visit, car service, hockey class, my day job, and various and sundry other tasks.
Finally, some fuzzy goodness for you. Normally Ginger is the one wanting to play with Boris and he just grumbles at her, but this day, Boris was feeling feisty, and he wanted to play with Ging. But she just wanted to chew on that stick! You also can't tell here that Boris the Pug is about half the size of Ginger the boxer.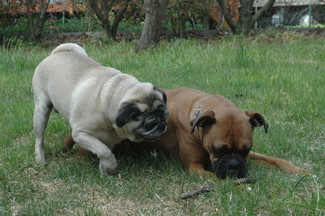 boris and ging
Happy rest-of-the-weekending!
Admin stuff: I am planning to try to find some time to tweak my stylesheets here to accommodate larger images and basically to reorganize the blog. If you come across anything broken, please let me know. Thanks!