If I can make it through tomorrow without buying any yarn, I will
have accomplished my January stashbusting goal of not accumulating
anything new.
"Oh, jess," I hear you say, "what about that whole bit of spinning up
at least 4oz of existing fiber stash?"
Well, I worked on that this weekend: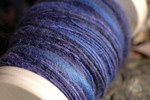 alt="spinny spinny" title="spinny spinny" border="2">

clicky clicky
fat and thin, 4oz corriedale pencil roving spun up

Clara href="http://www.knittersreview.com/article_yarn.asp?article=/review/product/050922_a.asp">reviewed
this pencil roving at Knitter's Review a few months ago, and shortly
thereafter I placed a small order with href="http://www.crownmountainfarms.com/">Crown Mountain Farms.
They were fantastic to work with — this pencil roving needed to be
dyed special for me, but they sent along the merino+tencel I ordered by
itself — and I still received the pencil roving within a week!
Fantastic!
I haven't spun on Lenny in a while, and I haven't spun pencil roving
on the wheel before (I have spun it on a spindle, laceweight!). I decided that
I would go for a thick and thin, manos-style yarn with this — that was a
reach for me, since I usually spin lace to fingering weight yarn on the
wheel.
It's not exactly what I wanted, but it will make a fantastic looking
hat and mitten set.
In other news: I have three socks OTN right now, a huge scary
deadline at work, 33% left to complete on the secret project (due by 1
March), and my href="http://www.xantha.org/gallery/outside/DSC_3662">crocuses are
coming up already because it's so warm here in DC.
Wool sweater season, I hardly knew ye.