I'm not sure what motivated me to "get ta spinnin'." Maybe it was Kelly's (Kelp! Knits) recent spinning on the wheel she's borrowing. Or maybe it was Noricum (Soapbox) spindle spinning while staying out of town. Or maybe it was the posts in the Hello Yarn groups on flickr (Hello Yarn Fiber Club pool, Hello Yarn stuff pool). Or maybe the most recent copy of Spin-Off sliding through the mail slot on my door. Probably all of the above!
On Saturday I finished up the first 4oz of my Hello Yarn Superwash Merino in Big Top. It is mostly sportweight, 2 ply and 93g. I have a bit more left on one of the singles bobbins — I didn't separate the fiber weight out so well pre-spinning.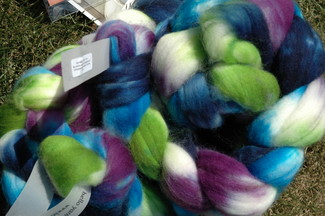 from this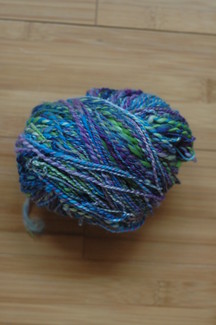 to this
I spun the first single up as Adrian painted it. For the second single I separated the fiber into colors and spun up the colors separately. This should result in a striping sequence and hopefully not mud.
After this, I was still on a spinning kick, so I went though the two boxes of fiber stash and ended up going back to my May Hello Yarn Fiber Club package. Given that the June package should be here this week, I thought it might be nice to spin May up before June arrived.
I decided I would try to get a worsted weight (not worsted spun) yarn out of it and I pre-drafted to that point. I separated the fiber into large sections. I spun up both singles on Sunday and started plying on Sunday — amazingly fast for the likes of me, but I was having a RSI flare-up and couldn't do any of my normal Sunday house cleaning or yard work or knitting.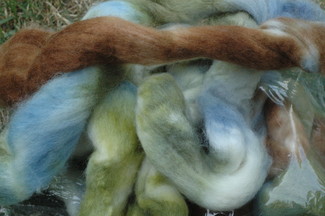 from this…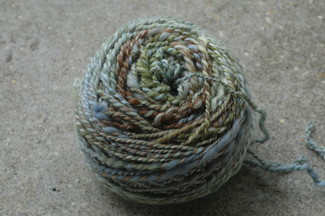 to this
2 ply, 134g, sport to heavy worsted weight.
Obviously it's not very consistent. I have a lot of problem spinning heavier weight yarn — I can't keep it the same thickness throughout, no matter the amount of pre-drafting I do. That said, this is probably the best I've done with a heavier-than-sport-weight yarn yet and I am very happy with how it turned out. So much so that I decided that a very simple 1×1 scarf would showcase the yarn best and I immediately cast on!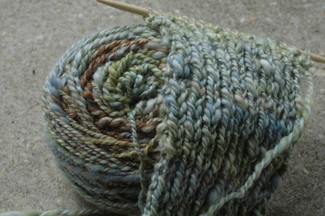 handspun scarf
I generally don't enjoy knitting scarves. Rectangles are boring, you see! However, I do love wearing scarves. And in the case of this scarf, I'm enjoying knitting with my own handspun, watching the colors transition in the knit fabric, and exclaiming (in my head), "woo hoo, I spun this!"