I really want to post about the BSJ I am knitting, but I can't get any pictures right now because my camera needs some TLC (from me, but still TLC).
The BSJ is the longest. knit. ever! I think it is going to take me another month to finish. I didn't think I was that slow of a knitter, but maybe I am! Garter stitch… zzz (so maybe a Hanne kit is not a good idea for me after all).
I have been fighting the urge to drop the BSJ and knit sock upon sock upon sock. I've thus far only worked on existing socks, but I did start my summertime sweater. Which I also have no pictures of due to the aforementioned camera!
But I do have one picture of May's Hello Yarn Fiber Club offering. I haven't jumped into spinning it yet because I am trying to finish up some superwash merino I am working on. Check this lusciousness out though: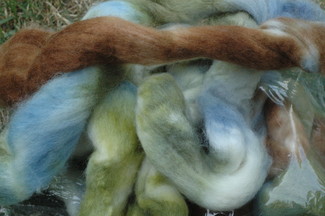 Hello Yarn May 2007 Fiber Club (it's BFL)
This is my first time in a "club" of any sort. I've never felt compelled to join any other ones, but Adrian's work is so fantastic that I knew I couldn't go wrong joining the club! Do I need more fiber to spin? Uh, no, probably not. I rediscovered a bunch of fiber the other day, too. I used to buy fiber in small amounts, so I think if I sit down I could make it through a lot of my fiber stash. Some of my problem right now is trying to get through 8-16oz worth at once — I'm pretty fast for the first 2-4oz or so!
I've never spun BFL (can you believe it!) and I don't have any in stash either, so I really can't wait to try spinning this. After I finish spinning the other 2oz of the superwash merino and ply it all… (leaving the other 4oz for later).
[if you're curious what others have done with this fiber, check out the flickr group or the Hello Yarn Fiber Club blog.]