Sometimes when I find myself grumpy at a project that isn't quite turning out the way I envisioned, I will start a small, quick project to get my crafty mojo back up. Do you do that?
That's what this is.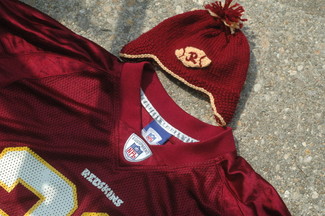 go 'skins!
Here's the quick stats.
Pattern:

Football from Itty-Bitty Hats, Susan B. Anderson.



Yarn:

Knit Picks Merino Style in Hollyberry and Honey



Needles:

US5 INOX dpns and US5 16″ Susan Bates aluminum



Hook:

3.00mm clover soft touch



Started-Finished:

25 May 2007-25 May 2007



Modifications:

The biggest change I made was in attempting to stitch the Redskins script R on the football instead of the laces. Otherwise, I stuck pretty much to the pattern. Oh. I did make the front and back the same size instead of as the pattern specifies, but that's because I don't follow patterns much. Overall, I am very happy with the hat (and you could easily recreate this without the pattern).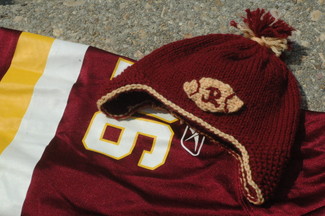 burgundy and gold, eh
From Tuesday through sometime last night, I had the migraine-that-would-not-go-away. It has not been fun. It finally started to dissipate last night. I decided I would try knitting this hat and the mindless-knitting-in-a-dark-room helped me get through the last bit of the headache. So thank you, hat!
When DH returned from his hockey game last night, I handed him the hat and he was very, very excited. "This is for [our niece-on-the-way]!" He put it on top of his head and "wore" it until I asked him for it. Hopefully he won't ask me to make one in his size…
[You may be wondering what I was distracting myself from. Well, I was distracting myself from this yoked sweater. I like it but I don't like the m1 increases I worked on the yoke (look at the pink rows, they go vvVvvVvvV). So I think I am going to rip it back and reknit it with all purple rows between the repeats. That way the m1 should be invisible. But I can't bring myself to rip it back just yet. I do think the sweater works though. DH sees a different dog in the pattern than I do. Now I see both. So cool! ]