Thank you all for playing my bloggery game! Your answers were a lot of fun for me to read!
You guys are better at space management than I am — every single one of you answered that my books would fit into the new bookcase, no problem. You were all correct! I have plenty of space left in the bookcase!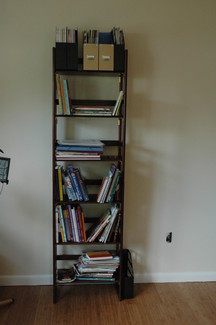 now I can buy more books, muwahahaha!
As for the sock books, I had votes from 7 to 140! The actual answer was 14 — by my count. I would also have accepted 13*. Kelly of Kelp! Knits wins some fingering weight sock yarn (it's a surprise!) for guessing that I have 14 sock knit/crochet books!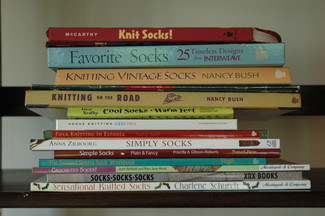 just the sock books, please
For the record, the books are:

[notable books missing that I don't own: Folk Socks and More Sensational Knitted Socks.]
The random winner picked from the pool (I called rand() within the spreadsheet of participants), Kristin of Kristin Knits! Kristin opted for some bulky weight yarn that I hope she will enjoy!
In the process of going through all of these books, I came across a number of books — mainly crochet books — that I simply have no use for anymore. The problem isn't that I don't like to crochet, it's that my RSI does not like it when I crochet. I don't like not being able to grip things, so I try to keep my RSI in check. This means I can't crochet much anymore, except small things like trim or provisional cast-ons.
This means that I have a handful of books and magazines up for the sending, if you're interested (yes, you)! Much of it is crochet, but there are also some knitting and spinning books/magazines as well. Check out the Stash Sale/Trade/Whatever page if you think you might be interested in some books/magazines and shoot me an email — or leave me a comment here, I haven't adjusted the PHP to allow for comments over on that page yet — and I'll get back to you!
* I say 13 or 14 because I decided that Folk Knitting in Estonia counts as a sock book due to it being about 50% sock patterns. Other people may not have considered it as a sock knitting book, so I took that into account when deciding who came closest to the correct answer.