I find this quite funny.
I posted a while ago about how I ran out of TLC Cotton Plus on this sweater and searched my stash and all of the craft stores within a 30 mile radius looking for another skein of the yarn. No luck. I pulled the sweater off of the needles and just left it in a bag — I didn't want to rip it back just yet.
Well, I'm glad I didn't rip it! After I posted about the sad state of the February sweater, I poked through stash looking for a DK weight solid color yarn. As I looked, I came across a full skein of TLC Cotton Plus in red, exactly the yarn I needed to finish this sweater.
I am sure I found it because I was bummed out over the February sweater.
In any case, I pulled the sweater out of the bag, put it back on a needle and finished it up this weekend.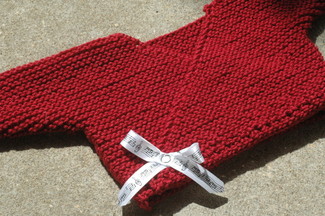 the finished red mdk baby kimono
Here's the quick stats.

Pattern:



Heartbreakingly Cute Baby Kimono from Mason-Dixon Knitting



Size:



newborn-3 months, I'm guessing. You know how baby sizes vary.



Yarn:



TLC Cotton Plus in Red. Purchased at AC Moore ($2.50/skein). I used 1 full skein and a bit of a second.



Needles:



Knit Picks Options, US7



Started-Finished:



31 April 2007 – 20 May 2007



Notes/Modifications:



I didn't modify too much. I added a k2tog-yo row to the hem on the front and back to echo the yo increase used on the fronts. I also used this at the cuffs, but I am not happy with that mod!


snappy!
you know by now I can't resist the snaps!

Rather than adding a ribbon for closing the front, I hand-sewed a ribbon to the front and added a snap to it for attaching. One single snap should be pretty fast to attach on a wriggly baby.
I hope to make a matching hat to go along with it before handing it over to the new parents.
If you haven't entered my blog contest yet, you still have some time! Be sure to read the instructions carefully though. Happy 500th post to me!