First, Eye Candy Friday (click the links under the pictures to see the full size versions):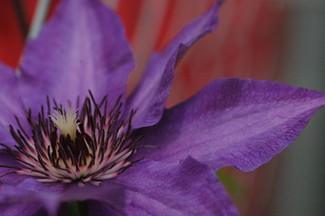 click for the full size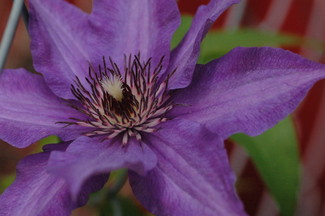 click for full size
I call this, "whoa, my clematis bloomed!"
Second, the backstory for the contest.
DH and I ran out of bookshelf space some time ago. DH said, "no more furniture!" OK. I did not buy another bookcase though we sorely needed one. But of course I did not stop accumulating books, especially of the crafty variety. It arrived at a breaking point this past weekend (DH, "Stop buying books!" me, "that's not a solution!") and DH finally agreed that I could get a bookcase.
I went for the cheap-but-quick solution and bought two folding bookcases at Crate and Barrel outlet that can be stacked atop one another. But now I wonder — will the books fit?
Contest rules: answer both questions in an email (answers left in comments will be ignored!) to blogcontest at fiberfetishist dot com before 00:00 Eastern DST (GMT-04:00), Tuesday, 22 May 2007.
I'll pick [at least] two winners — one randomly generated from everyone who submits, one randomly generated of everyone who answers both questions correctly. The loot? Most likely sock yarn (or something else if you don't want sock yarn!) and a book!
Here's the two questions (I don't know the answer to either at this point):
Will all of these crafty books fit in this bookshelf? The bookshelf has 6 shelves and is 20.75″W x 10.75″D x 74″H.



click here to see the full size image

How many total sock knitting AND sock crocheting books do I have? They are all in this picture, but may or may not be visible.

Note: I will not be counting general knitting/crochet books that happen to have one sock knitting pattern amidst twenty other patterns. Only books that are focused on socks will be counted.



click here for the full size image



Good luck!