This is all Stacey's (On and Off the Needles) fault — make sure you check out her Heart Crook Socks!
Anyway, I was recently inspired when Stacey posted a review and some pictures from Anna Zilboorg's Fancy Feet (also released as Simply Socks). I had to find this book! I remembered flipping through this book at my LYS and the turnover rate there is fairly low, so when I hit a database design problem I needed to think through, I headed to the LYS for a quick break.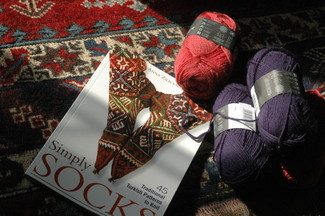 I found it! and some yarn too.
They did have a copy of the book! Coincidentally, they also had an Anna Zilboorg display because the owner of the LYS is friends with Anna (and I think Anna may be part of this LYS trip to Turkey). Anyway, I got the book for $15 [!!] and I also picked up some Jaeger Matchmaker DK for the current niece-knit-design in my head (which is related to this book).
As I flipped through the book, I kept feeling the twinge of recognition. It wasn't until I put the book down on the rug in my living room to take a picture that I realized why: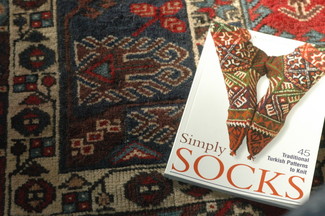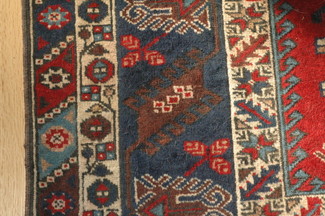 we like Turkey
Ah! Right. Duh. Yes, the Turkish rugs in my house. DH and his mom bought this one (8×10′) while in Turkey when DH was 15 or 16. It's gorgeous. And even though I vacuumed it clean on Sunday, it's already covered in dog and cat hair.
This one MiL picked up in Turkey last year: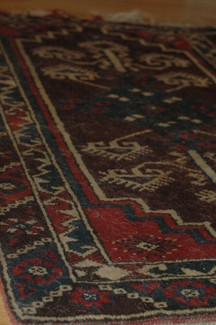 such great patterns!
Gorgeous. It's nice to be inspired by items already in the home. And the book is fantastic! I can't wait to incorporate some of these stranded patterns into my design work.
Tomorrow? A blog contest! I am looking forward to it!