I ordered some gorgeous yarn from Sundara in March, intending to make the EZ February baby sweater.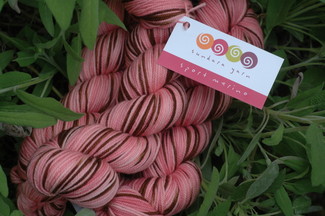 sport merino in cherry blossom – yum!
I was a little concerned going in — handpainted yarn + lace? Not always a good match. But since the yarn is only two colors — pink and brown — and is more weighted to pink, I thought it might work.
Well, now I've pushed this sweater to time out, just for a little while.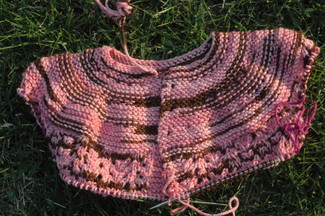 the front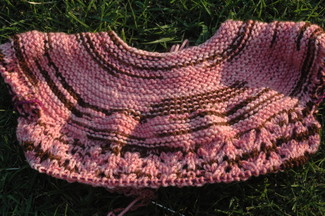 the back
I love the pattern and I love the yarn. I just don't think I love them together. I think the brown overpowers the pink and that even though there isn't nearly as much of it yardage-wise, since it's a deep brown, it is what you see. Not lace.
Do I scrap it for something else (like a BSJ?)? Do I keep knitting until I have a few more inches of lace so I can really see how it looks? I'm not sure right now. Sometimes I look at it and I hate it, other times I like it fine. I'm not sure what I think right now.
Into the time out bin it goes — back to the wheel for now.