This is another "new" process that I normally don't do. I spun and plied up a sample of the Hello Yarn superwash merino I prepped yesterday.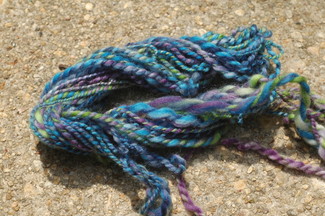 just a quick sample
I spun and plied this sample in about 20 minutes. I was tinkering with takeup, drafting techniques, spin introduced, and plying.
I think I will go for a 2-ply. Much of this is the target weight/wpi.
What did I learn? I need to add a little more spin into the singles so that I can ply it the way I would like to. That's why this sample isn't balanced. I never thought I was introducing too little spin into my singles — I used to have the opposite problem. I guess I overcorrected! I'll work on that.
[note: the really fuzzy unspun bits are the ends of the single.]
The other major goal of the sample was for me to see how the colors look with my preparation. Are they muddy? Do they run together? Does it look ridiculous as a 2-ply? I'm still on the fence with this, though I don't think they are too muddy. I will reserve judgment until I knit this up.
I also asked DH about the colors, forgetting that DH hates multi-colored yarns. DH, "why can't you make some yarn that is just ONE color? Like black?"
Harumph. Why not?! Because these colors are just too much fun to spin!