Kristina (Yarnsticks) asked yesterday what we are all currently obsessing over. I responded in her comments, but though I'd also elaborate a little about one of my current obsessions.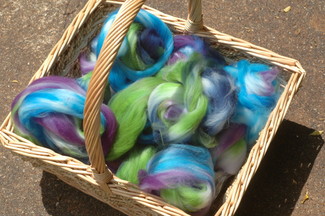 4oz of superwash merino from Hello Yarn (big top)
Spinning is at the top of my list right now. I have been thinking about learning new techniques and trying new methods. Sheep+Wool just contributed to this — I'm surprised I didn't come home with more fiber than I did!
One new technique I am attempting this time is to pre-draft most of the fiber before even starting to spin. I normally pre-draft a section, spin that section, pre-draft another section, spin that section. I think all of the pausing in the middle of spinning may throw me off.
So, with MJ's (yummyyarn) pre-drafting process in mind, I sat down at lunch today and prepped 4oz of this gorgeous fiber Adrian of Hello Yarn dyed.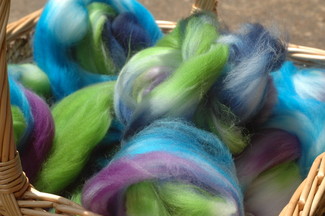 I am in love with these colors
I didn't follow MJ's process exactly — I thought about it, but since the width was already fairly thin and there are only five colors (lime, purple, navy, white, turquoise), I didn't tear the strips lengthwise. I may regret that later on. Or I may do it with the second 4oz I have.
Tonight I hope to get in an hour or so of spinning. My current goal is to spin a sport-to-DK weight 3-ply, not my usual fingering 2-ply. I may just go for a 2-ply sportweight yarn though.
The next technique? Gradiant yarn, using a technique similar to Stephanie's (the yarn harlot, of course) and my two new Grafton Fibers poofs. Or perhaps spinning silk from caps.
Admin: My comments table crashed and I had to repair it. So sorry if you tried to leave a comment in the last day or two. It is fixed now!