This was my second trip to MD Sheep+Wool, my first being in 2005. In 2005 my goal was to try out some wheels so I could decide which one I wanted to buy.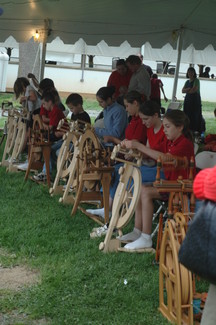 I love watching the spinning competitions with kids
This year was a lot different for me — it was about having fun with my mom and aunt (and keeping them from getting too insane and overwhelmed) and for picking up a few things. I already feel like I have too much stash here, but MD is MD and it's easy to forget about the full boxes at home when bombarded with gorgeous, soft, fuzzy fibers and yarns.
More behind the cut. Lots of pictures!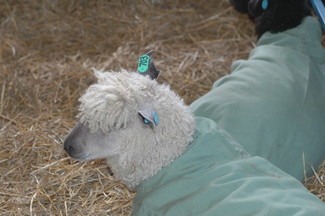 I love the curly hair in front best
I woke up at 6:15, showered, and headed up to my mom's at 7. I arrived at Mom's by 7:40 or so, and we headed out from her house at 8.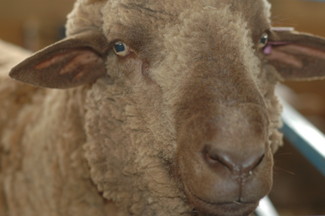 I think she liked me
We got there shortly after 9 and met up with my aunt at the front entrance. Our first stop? The lamb booth to buy some meat!

they have the longest eyelashes
After that, my mom wanted to pet the little Angora goats in the pen outside one of the barns (Kid Hollow Farm, from here in VA). Feed them and pet them she did!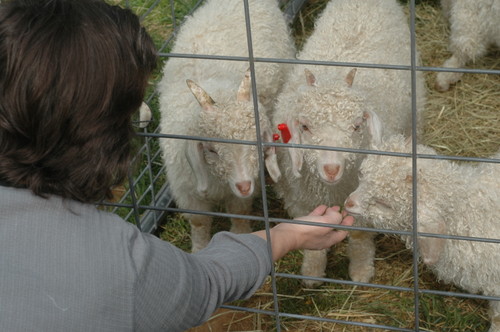 Mom feeding the goats grass
After this, my aunt and Mom each got a gyro. Yes, it was only 10, but they were hungry!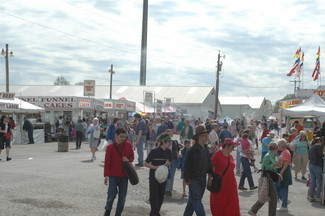 mm food
Mom wanted to see a rug hooking demonstration in the main hall, so we started to go through the main hall. The benefit of the main hall is slightly better lighting than the barns and most aisle space between the vendors. I had a couple of vendors in the main hall to visit: Shadeyside Farm and Ellen's 1/2 Pint Farm. Ellen's booth was half the size it was two years ago and they didn't seem to have that much stuff. Shadeyside had a bit more. I bought 5 silk caps from them in muted neutral colors with some green and pink.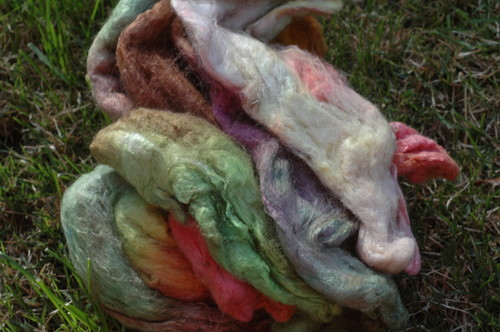 silk caps from Shadeyside Farm
I also found Grafton Fiber poofs in the main exhibition hall. They were not on my list, but I love Linda's work, so I bought two batts: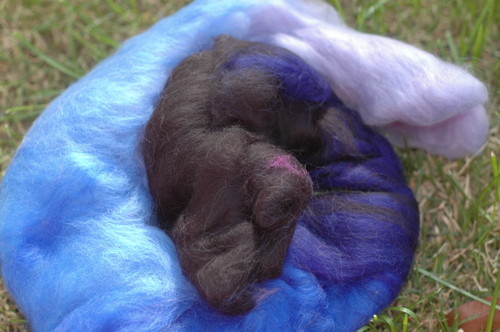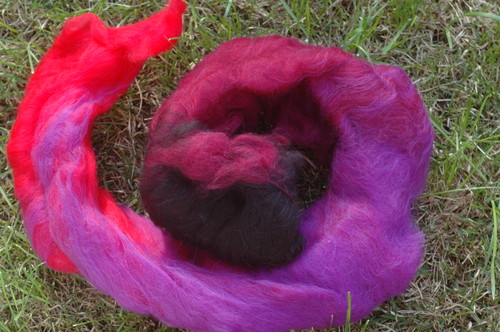 I hope to spin these up into 2ply sock yarn that slowly shifts in color
This is also where I spent a large amount of time in the Philosopher's Wool booth loving on the sweaters and chatting with one of the women from Philosopher's Wool. She was incredibly nice and friendly and made me want to buy a kit even more (I think it was Ann). I may buy a kit in the near future… I have always liked their patterns!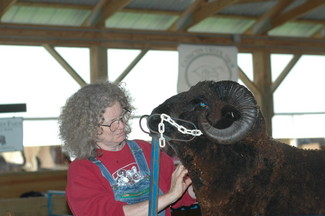 this guy was SO handsome while being shorn
After we survived the main booth, I grabbed some food and then we wandered through the animal barns.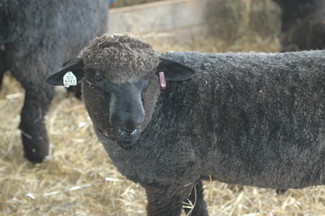 who's a black sheep?
Then to Tess!
I did give in to the Tess sock yarn. I had planned to buy two hanks for myself (and two for someone else). I ended up picking up 5 initially… and then I went back [!] on our walk out and bought one more hank.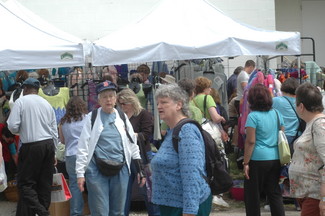 the booth was totally mobbed!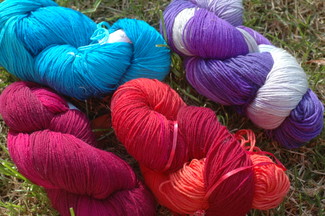 but really, can you blame us? totally worth the mob
I also ran into Kelly (Kelp! Knits) in the booth, and I was completely surprised to have someone recognize me and say hi! She had some gorgeous Tess yarn in her arms… the booth had people packed shoulder-to-shoulder or I would have attempted to get a picture!
My mom and aunt also bought a lot of yarn at the Tess booth. My mom bought 4 hanks of the sock yarn for Thermal and my aunt bought yarn for a moebius and some socks!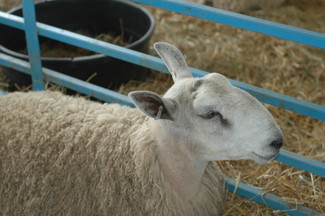 they are all so cute!
Around 1300, we happened to walk past The Fold's booth. The Socks that Rock were just about sold out: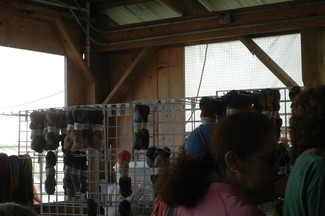 see the str?
I was surprisingly not tempted by the STR as much as I love it. I was amazed there were a few hanks left, though!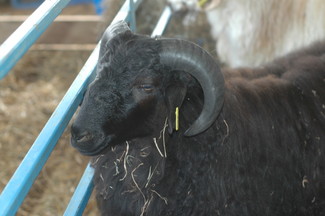 what a cutie
Near the end of our day we stopped by Susan's Fiber Shop to look at wheels and books. My aunt really wanted to try out a wheel and Susan's is where I tried out wheels a few years ago, so both she and my mom sat down at a number of wheels and just treadled (no fiber). They ended up liking a Little Gem and the Lendrum folding (the very wheel I have)! Both my mom and aunt really liked playing with the wheels.
While I was watching my mom and aunt play with the wheels, someone came up to me and asked me about spinning. I think she was just trying to get an idea about the appeal of it and she had a lot of questions about prepared fiber versus unscoured fleece and about how the new spinning wheels are so much smaller than the older ones (I think she was thinking of what she was seeing vs. what she saw in fairy tales: Castle and uprights vs. Saxony, or possibly Great Wheels). Anyway, I think I may have talked her into getting a spindle and some wool. Enabling, that's me!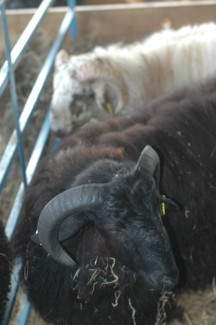 baaaa!
So when it was all said and done I ended up with: lamb meat, 5 silk caps, 2 Grafton poofs, 4 hanks of Tess sock yarn (well 6, but 2 are not for me), and a book. Not so bad. I stayed within my budget and even found my mom a mother's day gift!
Things I was very tempted by that I didn't buy: a Philosopher's Wool sweater kit (Colour Your Own — I think it was the Navajo colorway) and Brooks Farm yarn.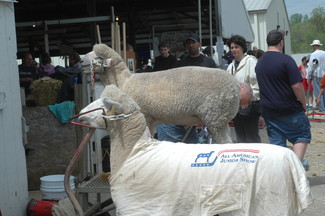 getting brushed and primped for the show
My aunt was surprised at the size of the festival — she had no idea it was so large and so close to her house!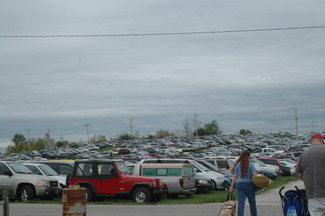 there were a lot of people there — I wish I had my wide angle lens for this pic
Today Mom sent me an email saying how much fun she had despite the overwhelming nature of the festival and she said, "I should be ready to go again in a year!" Sweet!