The Maryland Sheep + Wool Festival is quickly approaching! I went two years ago, and had planned to go last year until some family stuff came up and my plans changed at the last minute.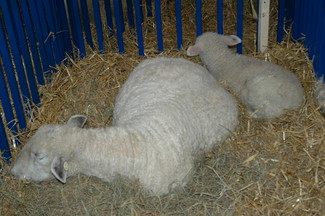 taken at MD sheep+wool 2005
This Saturday I am going with my mom and one of my aunts, which should be a lot of fun. They are Maryland S+W virgins — I sent my mom a list of planning to do. Setting a budget, making a list, bringing healthy food, having your own tote bags, wearing good walking shoes — that type of thing. She is very excited about the festival.
[aside: The Sanguine Gryphon has organized a blogger meetup. I don't expect that I will be able to make it (aw), but I will see what I can do. If you see me -- I plan to be in one of my brown Threadless sheepie shirts and my Something RedPurple -- say hi! If I give you a blank stare, it's because I am working on little sleep and festival sense supersaturation -- don't take it personally. :) ]
As for me, I am still working on my MD plan for this round. Right now my list looks like:

silk hankies! possibly from Shadeyside Farm or Ellen's 1/2 Pint Farm.

some Cormo — I've never spun Cormo!

possibly some Tess sock yarn, because everyone loves it so (Lolly posted her love for Tess earlier this week).

possibly some Brooks Farm yarn — if I come up with a pattern I want to knit and think about the yarn I need for it. I was initially thinking about the airy lace wrap from Fitted Knits, but I am not sure I am up for all of that knitting (as it was put over at Kelp! Knits, "Knitting the ties are the equivalent of knitting a scarf and a half. Gah!" Of course, her version is gorgeous and I can't wait to see her model it, but I am now thinking — no way in heck I am going to be able to focus long enough to knit that!)
I want to avoid buying too much of anything — I already have so much stuff.
But MD is overwhelming and amazing and there are so many gorgeous things to touch and see and smell and I know I will buy things not on this list. I just hope to limit these unplanned choices.
I really do not need more sock yarn (but I will make an exception for the Tess on this list). I also do not need any spindles. I do not spindle anymore now that I have my wheel, no matter how much I love spindles. I should not buy anything I can buy at the LYS.
Any bets on how I'll do? I still have a budget to set!
* My mom told my grandmother she was going to the Sheep and Wool festival this weekend. My grandmother misheard her and thought she was going to the Sheep and Wolf Festival. I find the concept highly amusing — it reminds me of one of Gary Larson's The Far Side comics.