I started this tiny project thinking, "it's okay if I run out of yarn on the MDK kimono, I am going to need another skein to make the matching strawberry hat anyway."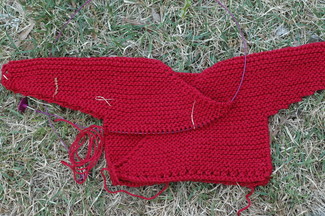 almost but not quite there…
don't worry, it will be washed before gifting
I got to this point and stopped, putting it on a holder. But it kept nagging me to go get the extra yarn to finish it since I need to have it ready to gift in a week.
So I took a late lunch today and checked the local AC Moore. And they still have the yarn (my beloved TLC Cotton Plus — my favorite washable, inexpensive, durable, soft cotton-acrylic blend), but not this color (the appropriately named "red").
Drat. I can order the skein I need from Joann's and add 1 or 2 day shipping (at $7.50-20 additional for a $2.40 skein of yarn!), but I would rather pick it up locally.
For tonight, it's back to yet-another baby knit — this seed stitch hooded jacket in Araucania Nature Cotton (thanks Knit Happens sale)!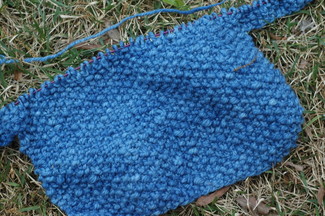 few things make me as happy as this cottony textured square-ish fabric
And with 4 100g hanks of the nature cotton, I am fairly certain I am not going to run out of it (knock on wood)!