I am feeling so ill right now that I don't even care that these pictures are horrible (no natural light today). I am also so overwhelmed by the cuteness of this sweater that I must share it right now!
I'll blame this all later on being sick!
I posted about finishing the knitting of this sweater a while back, but I had not done any of the finishing work. I put it off because I had to go out and buy some things — coordinating ribbon and a snap applicator and snaps — and I was trying to stay out of the fabric store[s]. Once I finished Something RedPurple though, I had to get a button for it, so I combined that task with also purchasing the snaps and ribbon for this sweater.
I am very, very happy with the fact that this sweater turned out exactly as I envisoned it.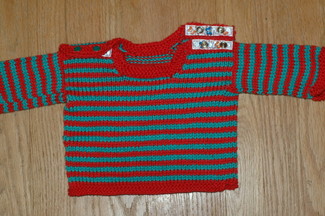 stripey baby goodness
Details:
Pattern:



my own, though Debbie Bliss' Simply Baby has a very similar pattern worked flat instead of almost completely in the round.



Size:



I'm guessing 3-6mos. It's about 9.5″ across, but you know how baby sizes differ!



Yarn:



Knit Picks Shine Worsted in Watermelon and Reef – 1.5 balls of Watermelon, 1 ball of Reef.



Needles:



I think I used my Knit Picks Options, US7 for the entire sweater. I magic looped when I had to.



Started-Finished:



Knitting portion: mid-Feb 2007 – 4 March 2007
Actually finished: 25 April 2007



Modifications:



Well, these are more features than modifications since this was my own winged "pattern."

As I said in the previous post on this sweater:

I knit it from the bottom up in the round (not bothering to correct the stripe jogs), split at the armscye and worked the front and back flat. Then I picked up the stitches at the shoulder and knit the sleeves down to the cuff. Finally, I picked up and knit the front and back necklines (separately). The body and the cuffs have splits in the garter stitch edging for look. I am planning to add ribbon to the shoulders and then install snaps.

After weaving in the ends and purchasing very cute butterfly coordinating ribbon and snaps (solid green!), I hand-sewed ribbon to the visible inside parts of the snap band over both shoulders. I then installed 7/16″ snaps.



how snappy!

I'm really happy with how it worked out, even though my hand-sewing could be better and I wish I had made the sleeve jogs on the right sleeve show up towards the back of the sweater, not the front. But hey. It's still really cute and hopefully not too little or too much girly for the niece-on-the-way!

I had considered writing up a pattern for it but due to the similarities to the Debbie Bliss pattern, I think I will skip it.

I cannot wait to give this to the parents and later, to see it on my niece!