DH and I returned home Saturday evening after a week+ in gorgeous, sunny, warm Florida. We did a lot of fishing, played with the dogs, and I managed to find some time to finish my Something Red Purple!
I love the sweater so much that it is requiring a lot of effort to not allow myself to wear it out in public before I wash and block it (which it really needs due to some uneven stitching). Overall I am very happy with it, the modifications I made, the input from DH that I took under advisement. But I'll elaborate on that once I have pictures of it post-blocking — and I may just wear it to MD next weekend!
I didn't touch the socks (gasp!) and I only finished one miter — I need more Tahki Cotton Classic to work the next joined square. I am missing greens, yellow, beige, brown, and pinks. Once I pick up more TCC, I can get moving on more squares. I was inspired by some colors in Florida that I hope to share as I make the related miters.
One inspiration is this friendly creature. S/He was fishing in the bayou along with us and popped up right next to our boat to say hi our last day on the island.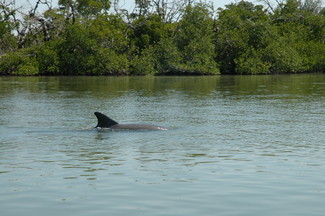 the friendly, hungry dolphin
[aside: if I missed replying to a comment recently: sorry! I came back to a ton of comment spam despite using Bad Behavior, which normally catches everything. I turned on Akismet -- I've had trouble in the past with Akismet tagging comments improperly, so I hope I can keep a handle on it. If you notice something weird, please let me know! Thanks! ]