DH, the dogs and I are going down to the family place in FL for a week and a half to celebrate a multitude of birthdays (all four of us!) and our fourth wedding anniversary.
How many knitting projects do you pack for a week and a half trip that includes 30 hours of car time? [and how much hockey equipment?]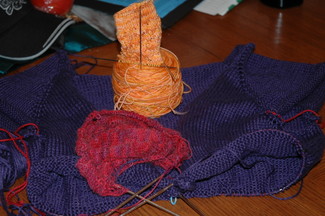 SomeThingPurple(STP – thanks E), Icarus in possum lace, Child's First Sock in Shell Pattern in All Things Heather
Three? Four? I am not sure about taking Icarus (making its blog debut here! say hi, Iccy!) right now. I am also tempted to take my mitered squares and Tahki Cotton Classic — that's the one yarn I know they have on the island, so I could buy vacation yarn there to add to it. Then there's a baby knit I want to work on… Oh, the choices!
I think I will not take Icarus, but I will take my mitered squares. No baby knit. That makes one garment, a pair of socks, and squares. Sounds good!
I've also done a bit more sewing — I wanted another handmade skirt to take on the trip.
I have a love-hate relationship with linen.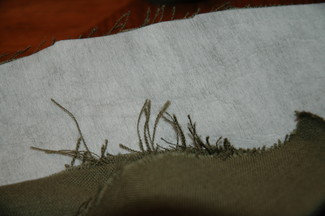 we have a love-hate relationship. It's very complicated.
interfacing and I have a similar relationship. Why the !@&( did it detach over time? is it supposed to? it was fully attached after ironing
I followed the Betsy Ross One Hot Skirt (#001) pattern and made a skirt with a hidden zipper out of some inexpensive linen that evil enabler Ashley (dogged.) pointed out to me.
I still have to slip stitch the facing down on the inside and add a hook&eye, but then it's done! It's a cute skirt, though there are some changes I will make if I make another one. Maybe after vacation I'll have pictures and a review…
Enjoy your mid-April!