Many reasons: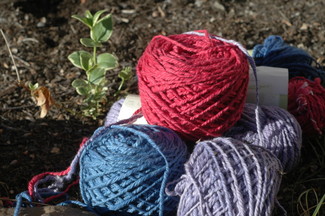 araucania nature cotton with a side of vinca vine
Without craftblogs I:

This is the first major yarn purchase I've had this year, and it was actually not too bad. Enough yarn for a handful of projects for a lot less than I normally spend on yarn. The raspberry shade is for me, most likely for the boatneck sweater from Fitted Knits. The blue and purple are for little humans!
Now I just need to not slip down the "must buy all yarn and fiber in sight" hill. This may be difficult, what with MDS+W coming up (yes, I'll be there with my mom and possibly an aunt)!