After frogging my lace cardigan, I felt powerful! I control my knits! But I also felt as though I needed to immediately start a new project with the same yarn to keep my momentum going. I poked through some lace patterns but in the end, I decided to go with the plain stockinette version of Wendy's (Knit and Tonic) Something Red rather than adding a lace pattern to the top of the sweater.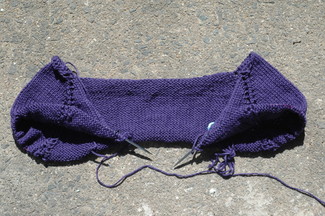 sorry, no lace here! just cute yarnover raglan seams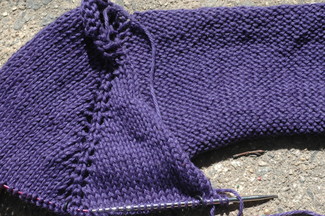 I love raglans, I love purple, I love cotton/tencel blend
So far, so good. I adjusted the stitch counts because I am knitting it in Classic Elite Premiere, which is a dk weight, not the worsted weight specified in the pattern. In the end, I think this fabric will work better for me — especially for spring.
Also, I noticed that in the size I'm making (~45″, since it's a cardigan and will be layered) that Wendy specifies a 14.5″ raglan depth (measured along the raglan seam from neckline to armpit). On me, this will result in underarm fabric flaps (I want to note here that even my store-bought raglans often have this issue, so it's probably weird jess-proportions). The joy of top-down designs though, is that I can easily try this on and adjust as needed. Right now I think that 9-10″ is probably going to be closer to what I'll end up with, and possibly cast on a few stitches under the arm (for me, this fits better than a longer raglan seam and no stitches cast on under the arm).
The other benefit of this being a top-down pattern is that when I get to the sleeves, I can let the amount of yarn I have (14 hanks?) dictate whether I have long sleeves or to-the-elbow sleeves. Right now, I suspect I'll have plenty of yarn for long sleeves.
Of course, I can't start one project without starting another… I have been daydreaming of knitting socks but for some reason am stalled on every sock I have in progress. So, being crazy, I started another lone sock last night.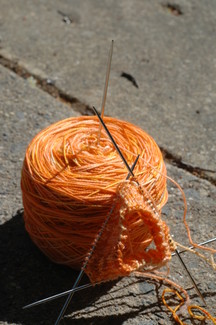 tangerine lace
This is All Things Heather in Tangerine, yarn that Betty (Knitting Betty) included in my KSKS Bag.
The pattern is impossible to see here, but maybe if/when I make more progress it will be evident.
I am apparently not over orange yet.