Ever since I pulled the premiere lace cardigan out of the in-progress box, I have had nagging doubts. The armscyes didn't look right. The back looked too big. I really wanted to finish it for this spring, but I was scared that it would end up too big and I would never wear it.
Last night I got up the nerve and frogged.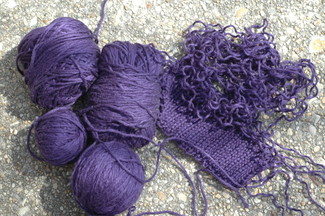 ripppppit!
I am a little sad about it, but the yarn — Classic Elite Premiere, a cotton/tencel blend that I love — survived admirably. Life is too short — and my knitting time too scarce — to knit something I have questions about.
Now I am re-considering what pattern to knit with it. I still want a springtime cardigan and lace would be a plus.
Current top runner? Wendy at Knit and Tonic's Something Red, only perhaps with a lace pattern worked above the ribbing. Then it is similar to what I was making — a lacy, deep ribbed cardigan — but just the slightest bit different.
To counter the destruction of the lace cardi, I sewed my first skirt and followed an actual pattern (simplicity 4197, which is a Khaliah Ali plus size pattern — I made the smallest size), which for the first time last night! It took less than two hours to do everything — cut the fabric, iron, sew, iron, sew, insert elastic, sew. It has been hanging up overnight and I still need to finish the hem, hence no model shot.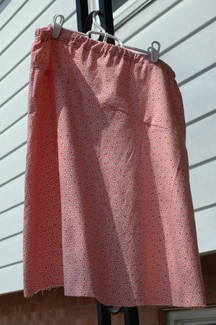 my first skirt! I am so excited
I always feel so inept in front of the sewing machine, and every time I read sewing patterns I get confused. Being able to follow a pattern, modify it just a bit in size and shape, and still end up with something wearable was a serious step for me. I am a lot more excited about this than I probably should be!
It is a very simple pattern, only 4 pieces of fabric and an elastic waistband. I also used $2 clearance quilting cotton for it as a "learning fabric" which is of course not optimal. But now I know I can make a simple skirt on my machine!
Up next? A skirt with an actual zipper installed. These fit me better and are more customizable in size, especially when I am much smaller in the waist than hip. I may actually try the Betsy Ross One Hot Skirt pattern for this, though I have this really cute Burda pattern (8215) I can't wait to make.
I will conquer you, sewing machine!