I generally pride myself on being a fairly intelligent person. To a fault, sometimes. Other times I look at myself and wonder how I could ever consider myself smart!
Any guesses as to what is wrong with this picture?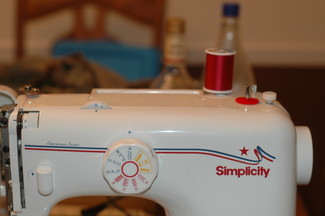 look closely at the spool of thread on the top
I actually worked on a project and completed most of it before I realized why I was having the problems I was having. I knew what the problem was — my top thread wasn't keeping tension properly, it would break randomly, it was otherwise not behaving like it had the last time I pulled out my machine — but I couldn't figure out why.
I thought it might be the thread, which was a fiber combination I had not tried before. I thought it might be that I mis-threaded the needle. I thought perhaps I was using a needle that was too heavy gauge.
Then I looked at the top of my machine and noticed an empty spool holder spinning and spinning around.
Uh.
Duh!
Clearly, I am not the sharpest tool in the shed.
That said, I did finish a very simple dpn needle case with some (stash!) fat quarters. It still needs a closure of some sort, but I haven't decided what. I don't like ribbons much.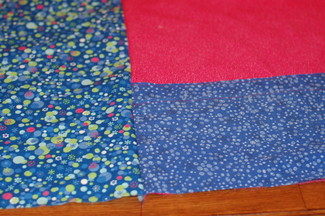 the first seam that holds all four fabrics together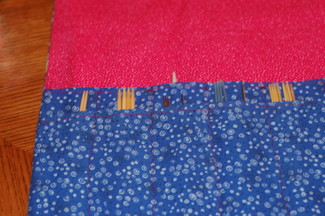 two rows of pockets for needles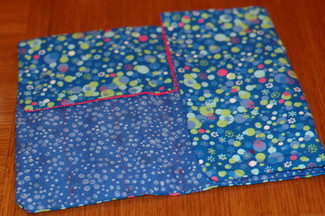 fold one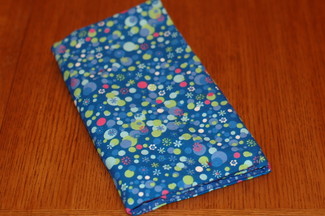 all closed
And for E (poking my eyes out), who laughed at me when I said I can't sew straight: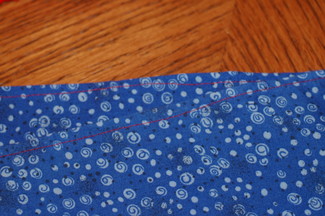 see how crooked?
I was totally not kidding!
[horrible color pictures brought to you by fake lighting required by the overcast skies and nighttime.]